From OBU Sports Info.
Casady Fletcher, Assistant Director of Athletic Media Relations
LEWISTON, Idaho – Top-ranked Oklahoma Baptist defeated Tabor (Kan.) 3-1 in the 2014 Avista-NAIA World Series at Harris Field Saturday evening.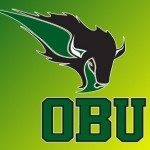 The Bison (54-7) tied a program record for most wins in a season with the victory. Errors were costly for both teams in the game, as three of the four runs that scored were unearned.
Julian Merryweather pitched a complete game, allowing just one unearned run on three hits while striking out 14 batters to improve to 12-2. Merryweather lowered his ERA to 1.01 for the season.
"Julian was unreal. He's been that way for us all year. That's nothing unusual for him, that's kind of what we expected out of him," said head coach Bobby Cox. "He was commanding three pitches, he was in the low to mid-90's (MPH) all day."
OBU scored the first run of the game in the second inning to take a 1-0 lead. Garrett Roberts was hit by a pitch to reach base, and was later brought home on a single from Ridge Hoopii-Haslam.
The Bluejays (50-12) tied up the game in the fifth inning. Catcher CJ DeDeaux reached on an error and Ryan Neufeld came on as a courtesy runner. Neufeld later came around to score on a single from Kirk Rocha.
The Bison took back the lead in the sixth on a wild play. Ivan Vela bunted down the third base line with runners on first and second. Matt Page was thrown out at third, but the ensuing throw to first sailed wide, allowing Tyler Melton to score all the way from first base. Vela was then thrown out trying to advance to third base.
Another error by the Bluejays in the seventh allowed Hoopii-Haslam to score from first on a single from Joey Szczepanski for the third Bison run of the game.
"They made a couple of mistakes and we took advantage of it and made them pay," said Cox.
Szczepanski finished 3-for-4 on the day, and Hoopii-Haslam was 1-for-3 with one run scored and one RBI.
Tabor ace Jacob Webb fell to 11-4 on the season after pitching eight innings, allowing three runs on six hits while striking out six OBU batters.
The Bison advance to play defending World Series champion Faulkner (Ala.) at 5 p.m. CDT Monday at Harris Field in the double elimination tournament.