Dayton Metcalf spent this past week getting ready for summer courses in Stillwater.
The recent graduate from Hooker is attempting to walk on to the football team at Oklahoma State.
But first there is one more high school game to play. And it's one that is a family tradition.
Metcalf is on the West roster of the K101 Classic Bowl that will take place on Saturday, June 4. It will mark the sixth time a member of his family will be a part of the Classic Bowl football game.
"Growing up, it's been one of my goals to play in the K101 Bowl my senior year," Metcalf said. "It's a real honor to be selected and I'm ready to play with all the guys that I've been playing against for so many years."
Dayton Metcalf has known about the Classic Bowl all his life. And while getting to attend may not be something that is a genetic right, as Dayton's play on the field has earned him that opportunity – in his senior season at quarterback, he threw for more than 2,000 yards, rushed for more than 1,000 and combined for more than 30 touchdowns – wanting to be a part of the experience is likely something that is in his blood.
Dayton's father, Shane Metcalf, played in Classic Bowl III in 1991. Shane was followed by brothers Clint, in 1995, and Luke, in 1998, to take part in the all-star game.
But that's not all.
His mother, Robin Metcalf (nee Adkins), who went to Beaver High School was a cheerleader and got to participate in the weeklong event in 1992.
And Robin's brother, Greg Adkins, made the trip to Woodward first, playing in the second Classic Bowl in 1990.
Robin Metcalf said it was a special time for all of them.
"Everybody is our whole family just said that it was an awesome experience," she said. "That is was one of the best times of their lives.
"Of course, the football guys get to stay for the whole week. They were talking about the friends that they met. They said that you play against these guys from the time you were little, and then you get to go be on their team and you play together.
"It's just such a great experience for everybody."
But it will be the first time since 1998 that the whole family will be coming over from the Panhandle to watch the festivities.
Robin said the family hasn't been able to attend in recent years because Dayton, and his three younger siblings have always had camps and other activities going on. But Dayton himself has gone.
"Dayton has been the last three years to watch because Hooker has had a lot of kids to get to go play and he's gotten to watch his teammates play," Robin said. "He's enjoyed it and is looking forward to getting to play this year."
And Dayton said it's a topic that has come up in family conversation.
"They always talk about how good a week it was. And they told me it was something I should try to get into and all I've heard about is good things."
Among the Metcalf and Adkins families, the trips to the Classic Bowl spanned the 90's. Dayton may represent the start of a new wave from the family.
His younger brother Dawson is headed into his junior year at Hooker and will look to fill the spot at quarterback Dayton vacated.
Another brother, Dillon, is going into the eighth grade and his family sees potential there, as well.
"We think he's going to be bigger than both of his brothers," Robin said. "He's a big boy. He's only 13 and he's already six feet tall."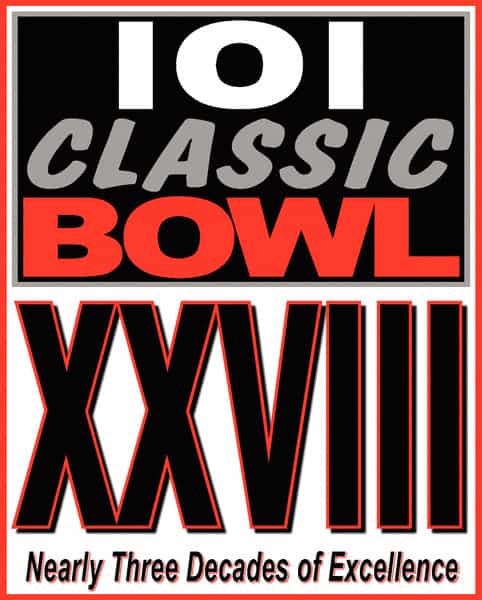 And younger sister Devry may make it to the Classic Bowl someday, too. Whether it be in cheerleading or basketball, or even football.
"Who knows what Devry is going to be doing," Robin said. "She may play it. She loves football and she watches every down. She never goes and plays with the other kids, she watches the whole football game.
"She's 9-years-old and we say a lot of prayers when her brothers are out on the field. Every time they get tackles or get hit, she crouches down until they get up. She takes it harder than I do, I think."
Dayton has already moved in to his new place in Stillwater and is getting ready for new challenges. But he said he is looking forward to one more game with familiar faces.
"I'm ready to take it on and just have fun with it. I've played against these guys for so long, it's just going to be nice to have these guys on my team and to see a different side of it."
The K101 Classic football game will close out the week of activity on Saturday. Kickoff is set for 8 p.m. at Boomer Stadium in Woodward.