KANSAS CITY – Langston held the nation's No. 2 team in scoring offense to just 32 points in the second half on the way to a solid win on Friday.
The Lions (24-9) overpowered the Dillard (La.) Bleu Devils, 84-74, in the second round of the NAIA Division I Men's Basketball National Championship.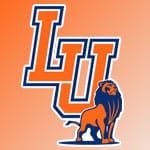 Michael Harris continued to be a force on offense for LU. The senior had a game-high 25 points and has topped the 20-point plateau for three straight game.
Daryle Mogan, Jr. recorded a strong double-double on the day. He was 8-of-10 from the field and put in 20 points, while pulling down 12 rebounds and five of them were on the offensive glass.
Just like the opening round game, the Lions found themselves down early. Dillard (25-8) built an 11-point lead, 22-11, just eight minutes into the contest.
But Langston used baskets by Renard Green and points and boards from Donald Denasto to work back into the game. LU trailed by just one, 42-41, at the break.
Langston matched that first half total in the second half, scoring 42 more. But the Lions' defense kicked in and shut down the Bleu Devils, who had been averaging 89.8 points per game. Langston grabbed seven steals and forced Dillard into 17 turnovers on the day.
Curtis Jones also had a big afternoon, with 17 points and 11 assists, and brought in six rebounds as well.
No. 6 seed Langston moves into the NAIA Tournament Quarterfinal, after having knocked off the No. 2 seed in the Duer Bracket, Dillard, and the No. 3 seed, Biola (Calif.).
The Lions will meet No. 2 William Penn (Iowa), the top seed in the Duer Bracket, at Saturday at 2 p.m. CDT.