Oklahoma Wesleyan athletics head into a new era this summer. It's a great time to make some changes along the way.
The Eagles become full members of the Kansas Collegiate Athletic Conference in July. And the brand will look a little different as they head to competition for the upcoming athletic year.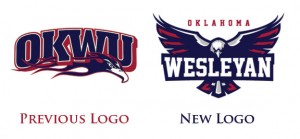 Oklahoma Wesleyan unveiled a new logo series for the athletic department on Thursday. The traditional colors of red and blue remain with a redesigned eagle and new font for the script.
"This is a great change for our athletic department and the university as we move into the Kansas Collegiate Athletic Conference," said Mark Molder, OKWU athletic director. "This new logo, and the options that come with it, will set us apart."
Another addition for the athletic department is a full-time sports information director.
Nickolas Morris comes to Bartlesville from Southwestern College (Kan.), where he played basketball and tennis and received a bachelor's degree in sports management.
He had an internship with the sports information department at Southwestern under SID Scott Nuss, as well as having an internship in sales and marketing with the Oklahoma City Dodgers.
Morris was a graduate assistant with the women's basketball team at Southwestern for a year and a half, and will also serve as the assistant women's basketball coach for the OKWU Lady Eagles this season.