It's still August, but regular season high school football in Oklahoma will begin on Friday night.
It's not just the way the calendar has fallen this year to shift these games into August. The Oklahoma Secondary Schools Activities Association is putting an extra week in the schedule for schools to be able to get 10 games in their schedules.
Scheduling a full 10-game slate has become problematic in recent years with the shifts in the classifications and some classes having only seven teams in a district and other classes have different numbers of teams in districts.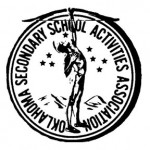 Van Shea Iven, OSSAA director of media relations, said the additional "Zero Week" helps scheduling issues in a number of ways.
"It will work well for those schools that are near the Texas border, the Arkansas border, the Missouri border and the Kansas border," Iven said. "Some of them have only nine games. And teams in those other states were starting a week earlier. This now gives our Oklahoma schools a chance to play some out of state schools in that zero week and to get a chance to have that full 10-game slate.
Iven clarified that although the regular season for high school football now has 11 weeks, teams can play a maximum of 10 games.
With the changes in districts over the years and influx of teams to the eight-man classes (B and C), Iven noted that some problems have arisen.
"It has hurt a couple of eight-man schools," Iven said. "Right now we have 40 teams in Class B and 40 in Class C. So there are even numbers in both classes, but it also means that all districts have an off-week.
"And last year, and this year as well, there is one week where all four teams that have the off week are in all four corners of the state. So it was like Shattuck was going to have to drive to Thackerville to play, or Thackerville to Shattuck."
And more adjustments than just the zero week will be coming into play.
"Now, next year what we're going to do for the next two years is that Class B is going to have 48 teams and Class C is going to have 32. So there won't be any off weeks. It will be easier to schedule games.
"At the start of the season, everybody will be off at the same time and when district starts, every team will be having games. So it shouldn't be a problem like it has been in the past."
The additional opportunity to play a game will be beneficial for more than just schools on the borders.
"There were a couple of teams that didn't have games at different weeks and they couldn't find teams to play, so now it works out that they can play in week zero."
Probably the most high profile game in Week Zero this year has Davis traveling to Tuttle.
Davis coach Jody Weber said this has been something he and others have been working on for some time.
"I was with the OFBCA a number of years ago when we started talking about this," Weber said.  "We wanted to alleviate that some of us were having a hard time finding a game since we went to the seven-team districts and have this open week. And of course our kids want to play all 10 games they have coming.
"A lot of times the team you want to play has an open week that doesn't line up. So the zero week helps.
"You still have to have an open week (with it) because you can't have 11 games. But now we can pick our opponent and maybe have a little more of a marquis game early in the season. And hopefully this game fits that bill."
Weber said having game a week earlier than usual wasn't going change his program's preseason preparation too much.
"We've had to go with the motto that we're not going to put 15 pounds of stuff in a 10-pound bag," Weber said. "We're playing a really quality opponent that does a lot in a bigger class with a roster that's probably bigger, too.
"But we're not going to force ourselves to be in better shape than we would have. We're not going to force any more offensive or defensive technique or schemes in. We're still working on all that.
"We're going to try to go win one with our effort and our physical preparation that we've put in through the last year."
With games on the docket for tomorrow night, it looks like a win for everyone involved.
The schools will likely get to have 10 games on their schedules and fans of high school football in Oklahoma get an early start watching the game they enjoy.