From UCO Sports
Mike Kirk
EDMOND – One down, two more to go for Central Oklahoma in the MIAA Volleyball Championship.
The No. 12-ranked Bronchos opened the eight-team league tournament with a 25-20, 25-20, 25-22 triumph over No. 25 Northwest Missouri Tuesday night at Hamilton Field House to complete a perfect home season and advance to the semifinals.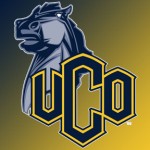 Regular season champion Nebraska-Kearney, Central Missouri and Washburn also won first-round matches.  UNK will host the final two rounds, with UCO set to take on the No. 11-rated Ichabods while the third-ranked Lopers play No. 16 UCM in Friday's semifinals.
The semifinal winners meet Saturday for the tournament title and the league's automatic berth into the NCAA Division II national tournament.
It was an historic victory for the Bronchos, who reached the 30-win plateau (30-3) for the second consecutive season — the first time that's ever happened — and just the fifth time in program history.
"It was a tough match and I was proud of the way our girls battled tonight," head coach Edgar Miraku said.  "We struggled at times, but I thought we did a great job of staying focused.  This group has accomplished a lot and they're not ready to be done."
Ijeoma Njenje hit .435 with 10 kills and no errors in 23 attacks while adding three assisted blocks to spark the Bronchos.  Taylor Bevis had a team-high 11 kills and 13 digs, with Fulani Petties adding eight kills.
UCO also got seven kills and five assisted blocks from Jordan Spence, while Dominique Lipari (14 digs) and Bonnie Vernon (12) both came up big defensively.  Katy Davis distributed 34 assists.
There were a total of 21 ties and 11 lead changes in the match as all three sets were closely contested, but in the end the Bronchos proved to be too much for NWMSU.  UCO finished 15-0 at home this season, with all 15 wins coming on three-set sweeps.
The Bronchos took the lead for good in the first set at 7-6 on an NWMSU hitting error and Bevis finished with six kills as UCO pulled away late.
The Bearcats led by as many as four (12-8) in the second set and were up 18-16 before Njenje had a kill and Petties back-to-back slam dunks to give the Bronchos a 19-18 lead.  It was tied again at 19-all, but Njenje had a kill and Spence two blocks during a 5-0 run that put UCO in control.
NWMSU jumped on top again early in the third set and led 11-10 when the Bronchos rattled off six unanswered points to move in front for good.  Allison Barr sparked that surge with a kill and two blocks.