DURANT – As the time clock horn sounded, Emily Williams drained a three-pointer with 30 seconds left in overtime to give the Savage Storm a 68-64 lead, and the home team would hold on.
Southeastern (9-1) earned a hard-fought victory, 70-66, over Northwestern and moved to 3-1 in the Great American Conference.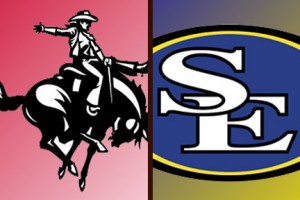 SOSU coach Darin Grover has seen this movie before.
"That's not her first one since she's been here," Grover said.  "She's hit a lot of big shots over the years.  And that was about as clutch as it gets."
Williams and Kaylie Baxter each had a game high 19 points, had clutch play late in the contest and logged more than 40 minutes of court time.
Williams had five of her team's 11 points in overtime and made the two free throws that tied the game at 59 apiece to send the game past regulation.  She also had a double-double, collecting 10 rebounds as well, and connected on all 10 free throws she attempted.
Baxter was 4-for-4 from the free throw line in overtime and made the insurance shots giving her team a four-point advantage at the end.
"We give out a player of the game and I thought Emily as definitely deserving of that, but Kaylie was just as much.  She made a lot of big plays and she has to guard a lot of post players that are bigger than she is and that's not easy to do."
Jonae Isaac led the way for the Rangers (2-7, 1-2) with 17 points. Relina Johnson put up 13 points and 10 boards in 41 minutes of action on the night.
The game was tied 14-14 nine minutes into the game, then Northwestern used pressure defense to force turnovers and convert.  The Rangers were up 27-18 with 7:09 left in the half.
But the Storm pushed back with a 15-4 run to end the period, going on top 33-31 at intermission.
Southeastern had an eight-game winning streak halted a week ago at Bethany, falling to Southern Nazarene while shooting 35.7 percent on the night.
The Storm shot 47.5 percent from the field on Saturday night.