Northeastern State and Central enter their second year in the MIAA with expectations a little higher from those who closely watch the league.
The NSU men grabbed the No. 4 spot and a first-place vote in both the media and the coaches' polls.  UCO was picked sixth in the media poll and fifth in the coaches' poll, picking up a first-place vote as well.
This comes after the two teams showed their new conference rivals what they could do in Year One.
Northeastern finished 2012-2013 in a tie for third place in the (then) 15-team league with a conference record of 12-6.  The RiverHawks dropped the first game of the post-season tournament, but were an at-large pick to the NCAA Tournament.  NSU was picked to finish next-to-last in the preseason tally.
NSU comes into this year as a top 10 team, according to Division II Bulletin, which put them in the No. 10 spot.
Coach Larry Gipson seemed bemused by the ranking.
"I'm a little puzzled by that," Gipson said.
"We're a small team this year, but a very skilled team.  I'm a little concerned about our size and a little concerned about our ability to defend in the post.
"But I've coached really good teams in the past that have been ranked and I never thought they were worthy of the ranking until the season was over."
Central closed out 2012-2013 tied for sixth in the league.  The Bronchos went 11-7 on the conference slate.  The pollsters were a little kinder as the media placed UCO in the seventh spot and the coaches picked the Bronchos ninth.
UCO coach Terry Evans said he felt a little disrespected at the start of the season last year, but also said he felt confident in what his team could do.
And after the Bronchos started with a 1-7 record, UCO finished the regular season winning seven of its last 10 games.
Evans said that this league is tough "from top to bottom and that there's probably not a league better."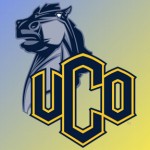 He also said that his roster had been upgraded in the way of size and depth.
"We have a chance to have a good basketball team."
The Bronchos led the MIAA in scoring last season, and although that is a hallmark of the team since Evans has been in Edmond, he spoke of the team's emphasis on defense.
"Our kids are playing great defense and rebounding the basketball much better than they did last year," Evans said.