No. 7 seed Baker made a run over the final eight minutes, but couldn't quite overcome an 18-point Oklahoma Baptist lead.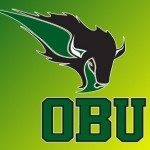 The Lady Bison hung on to win, 52-47, in the first round of the 2015 NAIA Women's Basketball National Championship at Independence, Mo.
Second seeded OBU (26-5) led 46-28 at the 8:06 mark in the second half and scored only six points – all by Elisabeth Daniels – to close out the game. Fortunately for the Lady Bison, it was just enough.
Baker (Kan.) got a pair of three-pointers from Caitlin Modesett as part of a 19-6 run to end the game, but ran out of time before the comeback could be completed.
Daniels had a game-high 14 points for the Lady Bison, which included 6-of-6 from the free throw line and all were important.
Charity Fowler scored 10 and McKenzie Cooper had nine.
OBU shot only 37.5 percent from the field and 14.3 percent from behind the arc. The Lady Bison missed all five three-pointers attempted after halftime. But Baker shot only 21 percent, as OBU made it stand on defense.
It was the lowest scoring output for the Lady Bison this season.
OBU next faces No. 3 seed Our Lady of the Lake on Friday at 4:30 p.m.