From OBU Sports
Jordan Beech, Women's Lacrosse Coach
SHAWNEE – Despite a clutch last-minute shot by Paige Morrison to tie the game up at 17-17 in the final five seconds of the game, the Lady Bison were undone in overtime by Montevallo on Saturday night in the first lacrosse game between two NCAA opponents in the state of Oklahoma.
Oklahoma Baptist faced a two-goal deficit, down 17-15, inside of four minutes, before Hannah Dowell pulled one back for OBU off a free-position shot. A big save by Sabrina Attaway with 1:28 on the clock gave the Lady Bison another chance to tie it, and Morrison did just that after Haley Ballard found Morrison open on the feed.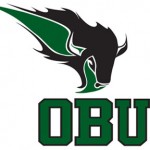 Winning the opening draw of the sudden-victory overtime period, Morrison raced down the field, but unfortunately saw her shot blocked. The Falcons successfully cleared the ball to OBU's defensive end, and were able to score on their first shot, ending the game at 18-17.
The Lady Bison led throughout the game, and even led by as many as five goals with just over a half of play left in regulation. A pair of yellow cards suffered by OBU helped Montevallo get back into the game, and eventually take the lead with 8:11 left on the clock.
"The ladies showed an immense amount of fight and character to come back so late in the game," said Oklahoma Baptist head coach Jordan Beech. "We didn't execute well on the draw, but we'll get right back to work on Monday for our game next week."
Morrison had a game-high with seven points on five goals and two assists. Alexis Martin was second on the team with six points through five goals and one assist, while Hannah Dowell also chipped in with five goals. Emily Gilbert and Allison Ingrim also scored one goal each, while Haley Ballard collected her first career point for the Lady Bison when she assisted on Morrison's game-tying goal.
Defensively, the Lady Bison caused 22 turnovers, led by Morrison, Ingrim and Gilbert with four apiece; Montevallo only caused five turnovers total, and were forced into 31 turnovers over the course of the game. OBU also held an advantage in ground balls, 34-30, led by Ingrim and Attaway with five each. 
The deciding factor was the draw, where the Lady Bison were bested 23-13. Morrison and Ingrim each had a team-best three draw controls.
Oklahoma Baptist returns to the field next Saturday, February 27 for a 3 pm tilt against Ottawa in Shawnee.