From OBU Sports Info.
Jordan Beech, Women's Lacrosse Coach
SHAWNEE, Okla. – The Lady Bison started fasted and finished strong in a 15-2 season-opening victory over the University of Saint Mary on Friday night at the Oklahoma Baptist Lacrosse Complex.
Alexis Martin did much of the damage for Oklahoma Baptist, scoring seven goals, including six in the first half of play. Her seven goals tie the second-most in a single game, and is the most scored in a debut. Each shot on goal by the freshman attacker found the back of the net.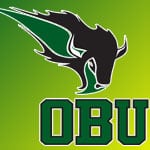 The Lady Bison got up big on the visiting Spires inside the first 11 minutes of the game, carrying a 7-0 lead at the 19:08 mark in the first half. Martin did most of the damage, accounting for four goals, while both Hannah Dowell and Paige Morrison also found themselves on the score sheet.
Oklahoma Baptist would push the lead to 12-0 with 2:33 remaining in the game following a free-position score by Morrison, but Saint Mary managed to claw one back with 52 seconds left in the half. 
Coming out of halftime, the Lady Bison slowed the pace of play with the game firmly in control. Allison Ingrim scored with five minutes into the half before USM managed one more score. The defense, led by Jamie Jefferson and Savannah Tompkins and directed by goalie Sabrina Attaway, tightened up from there, permitting just two more shots over the final 23 minutes. OBU would score twice more with a running clock, and claim a 15-2 victory in newly-minted head coach Jordan Beech's first game at the helm.
"All the credit goes to the ladies on the field, they did a fantastic job of executing," said Beech. "We pressed the play and dominated in all areas of the game. Credit to Saint Mary's, they played tough. We'll have another good test against Montevallo tomorrow night as well."
Martin led the way with seven goals, while Morrison also recorded a hat trick. Dowell and Ingrim each put in two apiece, while Emily Joslin also opened her goal-scoring account for the season. Morrison, Dowell and Emily Gilbert also each had one assist.
OBU held a 32-19 ground ball advantage as well, led by Dowell with seven. Martin tallied five, while Gilbert and Savannah Tompkins both scooped up four. Dowell and Joslin also tied for a game-high three draw controls.
Attaway was credited with the win, the 16th of her career. She posted a save percentage of .600 in the victory.
The Lady Bison return to the field tomorrow for a historic game against Montevallo at 6 PM in Shawnee. The game will be the first contested between two NCAA opponents in the state of Oklahoma.