From OC Sports Information
PANAMA CITY BEACH, Fla. – Oklahoma Christian men's golf coach David Lynn just kept shaking his head Wednesday afternoon, trying to wrap his mind around what his team had just accomplished.
The Eagles claimed the program's third national title in dominating fashion, taking the National Christian College Athletic Association Championship at The Hombre Golf Club by a whopping 52 shots over runner-up Union (Tenn.).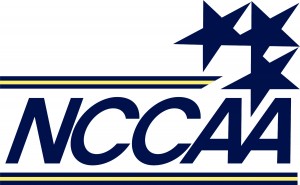 All five OC golfers – Vilhelm Bogstrand, Alasdair Dalgliesh, Sam Johnston, Logan Herbst and Jared Consoli – finished in the top 10 and earned All-America honors, with Bogstrand winning his third career individual title. The Eagles' three-round team total of 26-under-par 838 (on a course that hosts the second round of the PGA Tour's Qualifying School) set an NCCAA Championship record and OC also smashed the program record for margin of victory.
"You don't win a national championship by 52 shots," said Lynn, who was named the NCCAA Coach of the Year. "I don't even know what to say. I'm just so proud of the guys. It's such an awesome feeling to come to a championship, have a game plan and have the kids buy into that game plan, have them do the right thing and get rewarded for it.
"They've worked very hard this fall and I couldn't be more proud of them. Their performance here was unbelievable. Fifty-two shots over three rounds in unfathomable."
The Eagles' previous titles came in 2009 and 2011 in the NAIA. OC joined the NCCAA in July as the university also began the three-year NCCAA membership process. Several other former NAIA programs who also are moving into Division II – including Union, Shorter (Ga.), Roberts Wesleyan (N.Y.), Point Loma Nazarene (Calif.), Trevecca Nazarene (Tenn.) and others – also joined the NCCAA and were in the field for the tournament.
OC led from start to finish. The Eagles held a 10-shot lead after the first round and had a 33-shot bulge after the second round, making Wednesday's round almost a coronation. But instead of taking it easy, the Eagles laid the hammer down and kept accelerating away from the field.
The Eagles' lead grew steadily all day, first to 40 shots, then to 46, then to 53 before finally settling at 52.
"It's difficult to sum up my emotions at the moment," Lynn said, "but for the most part, I'm just excited, especially for the guys, to have the opportunity to compete for a championship, to come down here under different circumstances than we're used to and play really well."
OC and Oklahoma City University tied for a 41-shot win in the U.C. Ferguson Classic in Oklahoma City in September 2006. Without sharing a tournament win, the Eagles' previous largest margin of victory was 36 shots in the Texoma Classic in Kingston, Okla., in October 2010.
"We all played really well," Johnston said. "We hammed-and-egged it pretty good. When you're dropping a 75 (score), that's good. … I wouldn't say the course necessarily suited our games, but the guys on our team are all really good at managing their games around a course, and that's all you really need to do out here."
Bogstrand also led wire-to-wire, although for a brief time on Wednesday, Consoli caught him atop the leaderboard. Bogstrand, a senior from Oslo, overcame a double bogey on the par-4 No. 10 to close with a 2-under-par 70 on the 6,517-yard layout over The Hombre's Bad and Ugly courses. At 8-under 208 for the tournament, he beat Dalgliesh and Johnston by three shots.
Yes, the Eagles had the top three finishers. Bogstrand was the second OC golfer to earn national medalist honors. Oscar Stark did the same in leading OC to the 2011 NAIA title – with teammate Axel Ochoa as the runner-up.
"What can you say about Willie?," Lynn said of Bogstrand. "Just absolutely phenomenal. To win a national championship as an individual is special."
Johnston was the star of the day for the Eagles, using an 8-iron to one-hop his tee shot on the par-3, 155-yard No. 11 in the hole for his sixth career ace – but his first in tournament play. He later added an eagle on the par-4 No. 16. He finished the round at 6-under 66.
Dalgliesh closed with a 69, recording birdies on four of his first five holes and adding three more birdies on the back nine. Consoli finished with a 76, with a triple bogey on the par-4 No. 9 taking him out of the individual race. But Herbst posted a steady 73 and ended the tournament tied for seventh at 1-over 217, the same as Consoli.
Behind OC, it proved to be a competitive tournament. Union, which started the day in second place, held off a late run by Shorter to finish at 890 and claim runner-up honors by six shots. Southern Wesleyan (S.C.) was fourth, one shot behind Shorter. OC's Heartland Conference rival, Dallas Baptist (Texas), tied with North Greenville (S.C.) for fifth at 906.
It was the second straight championship season in which OC's entire starting lineup earned All-America honors. The quintet of Bogstrand, Consoli, Dalgliesh, Herbst and Preston Williams did so in NAIA competition this past spring.
The national title was the sixth overall for OC's athletic program. Besides the three golf championships, the men's tennis teams won NAIA titles in 2003 and 2012 and the men's cross country team took the 2011 NAIA title.
"We are so appreciative that we are that we got to come to this championship and for the support our administration has shown," Lynn said. "We've gotten text support from people all week and we really are grateful."
Murray Evans is the Assistant Athletic Director for Media Relations at Oklahoma Christian University.