OCU Sports
Rich Tortorelli, Assistant Athletic Director for Communications
OKLAHOMA CITY – No. 1-ranked Oklahoma City University topped Simpson (Calif.) 4-1 on Wednesday at Ann Lacy Stadium in the NAIA Softball Championship Opening Round Oklahoma City Bracket.
Kali Pugh provided the Stars with the winning RBI with a two-run home run. Defending national champion Oklahoma City (64-1) clinched its 30th NAIA Softball World Series appearance with the victory.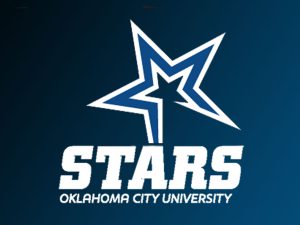 The Stars took the NAIA Championship Opening Round Oklahoma City Bracket for the fourth time in five years. OCU captured its ninth national title last year. Oklahoma City owns national crowns won in 1994, 1995, 1996, 1997, 2000, 2001, 2002, 2007 and 2016. The World Series runs May 26-June 1 in Clermont, Fla.
OCU extended its scoreless innings streak to 24 until Simpson's Kayla Bailey hit a solo homer in the sixth. The Stars improved to 7-1 vs. ranked foes this season. Simpson, ranked 16th, ended its season 45-10.
"We played well enough to win," OCU coach Phil McSpadden said. "We didn't play our best game, and that could be attributed to the team we played. I'm excited about another chance to be a part of the final 10. By the same token, we have things to address."
Georgia Wall collected the victory, moving to 29-0 on the season. Wall, a sophomore from Marlow, Okla., ran her career record to 56-1. Wall struck out three and allowed one run on six hits and two walks in seven innings.
Pugh, a senior from Vista, Calif., crushed a 2-2 pitch beyond the left-field wall next to the scoreboard with one out in the third inning for a 2-0 OCU lead. Pugh leads the NAIA with 86 RBIs.
Samantha Stallbaumer gave the Stars a 4-0 advantage in the fifth. Stallbaumer, a sophomore from Haven, Kan., poked a looping base hit over Simpson shortstop Kaylana Mah with the bases loaded and two outs to bring in two runs.
Pugh went 1-for-3 with two RBIs and her 23rd homer, while Stallbaumer was 1-for-2 with two RBIs. Jaci Smith smacked a double, while Madison Ellis ripped a triple off the right-field wall.
NAIA Championship Opening Round
Oklahoma City Bracket
At Oklahoma City
Ann Lacy Stadium
Monday's Results
Bellevue (Neb.) 2, Simpson (Calif.) 1
Oklahoma City 9, Kansas Wesleyan 0
Tuesday's Results
Oklahoma City 8, Bellevue 0
Simpson 11, Kansas Wesleyan 2 – Kansas Wesleyan eliminated
Simpson 7, Bellevue 0 – Bellevue eliminated
Wednesday's Result
Championship
Oklahoma City 4, Simpson 1 – Oklahoma City advances to NAIA Softball World Series