The spring sports programs are starting their seasons in next few weeks and in the NAIA that now includes the pom and cheer teams.
Oklahoma City pom head coach Tasha Hinex is getting her team, one of the two spirit squads at the school, ready for the regular season for just the second year.
"Last year was the first year the NAIA added regular season," Hinex said. "In previous years, there was just a regional. In 2014, they added a championship. That was the first NAIA national championship."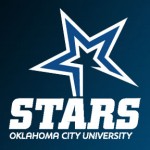 The Stars' cheer team won the national championship, while the pom team came in fifth.
The spirit squads at Oklahoma City have captured 10 national titles. The teams have competed in prior years with the National Cheerleaders Association (NCA) and the National Dance Alliance (NDA). But recently the NAIA started recognizing cheer and dance as a part of its governance.
And OCU hosts a qualifying event on Friday with NAIA competition.
"This is kind of the start of making cheer and pom a sport, so they are trying to do more games or season competitions," Hinex said.
"So this is considered a regular competition where we go head to head against another university and get feedback. It doesn't necessarily determine where we are; it's like a regular season competition."
Through NAIA competition, the teams will have more chances to compete and work on their skills.
"With the NAIA, they are trying to gear us more toward being a sport, we do more of it," Hinex said. "Some schools start in November, but we start in January and have at least three to five regular season competition and then a qualifying competition.
"And then from there we go and hopefully make it to the national invitational, but it gives us more of a chance of proving ourselves.
"With NCA and NDA, it's more of a one-shot deal – you either do it or you don't."
Hinex said she was optimistic headed into Friday's competition, but is ready to see how the team can improve.
"I expect a really good performance. I feel like it won't be really where we need it to be in probably a month or two months, but I think it will be a good thing from where we have been and where we're going to go."
The NAIA qualifier will get underway at 7 p.m. at Abe Lemons Arena.