ORU Sports
Scott Slarks, Director of Media Relations
FAYETTEVILLE, Ark. – All nine starters tallied at least one hit in a true team effort as Oral Roberts baseball staved off elimination in a dominating, 14-6 win over in-state rival Oklahoma State Saturday afternoon at Baum Stadium in the NCAA Baseball Championship.
The middle of the lineup delivered in a big way to extend the season for the Golden Eagles led by Michael Hungate. The senior exploded for a career-high five RBI on a perfect 4-for-4 outing, including a three-run home run to the opposite field in the sixth inning. ORU hitters four through seven in the order combined to go 10-for-18 with 11 runs and eight RBI.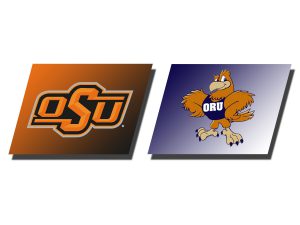 Despite waiting out a nearly two-hour weather delay before first pitch, ORU raced out to a 10-1 lead and closed out its third-straight win over the Cowboys this season.
"We sat here last night, and tonight may be a role reversal of what happened," head coach Ryan Folmar said. "Last night we pitched extremely well, but we struggled to make a couple of swings. I thought we were really good offensively today.
"I'm proud of the way we responded after a game like last night, when offensively we weren't very good. We bounced back today and got 16 hits, scored 14 and were able to kind of extend it and hang onto some of our bullpen as the tournament moves forward. I'm proud of the way our guys responded after a tough night last night."
After taking a two run lead in the second inning, the Golden Eagles burst the game open scoring five times in the third on five hits. Back-to-back singles from Cal Hernandez and Matt Whatley opened the frame before Brent Williams sent a RBI single to center. Dylan Snypes walked to load the bases and Hungate brought home another run on a single into shallow center. Trevor McCutchin ripped a one-out double into the gap in left center plating a pair to cap the scoring. It was the 15th time where the Golden Eagles put up five or more runs in an inning this season.
Every player in the lineup posted a hit by the end of the fourth inning and Hernandez, Noah Cummings, Williams and Snypes all came through with two hits on the day.
Hungate posted RBI singles in the third and fourth innings before launching his fifth home run of the season in the sixth.
The Golden Eagles put at least one runner on base in seven of eight innings played and hit 8-for-17 with runners in scoring position.
Taylor Varnell picked up his second win of the season in relief throwing two scoreless innings. Starter Josh McMinn cruised through four innings before running into trouble with three walks in the fifth.
ORU scored its most runs in a regional contest since putting up 15 runs in the NCAA Tempe Regional in 2009 against Kent State.
The win over Oklahoma State today was the first win for Folmar in a NCAA Regional.
The Golden Eagles continue their season Sunday at 3 p.m. facing the loser between Saturday night's matchup of No. 1 Arkansas and No. 2 Missouri State. The game will be available on ESPN3 and the WatchESPN app with live audio on ORU Sport Network.