Due to technical difficulties beyond our control, the audio of the conversation with OBU coach Chris Jensen was not available for the Podcasts.
We offer this look at the visit with Jensen, who said he was pleased with this year's recruiting class.
Jensen talked about the idea of recruiting a little differently now that his team was playing a Division II schedule. He addressed specifically recruiting tight ends and referred to Jacob McGuire, from Velma-Alma, and Brock Goddard, from Prosper, Texas.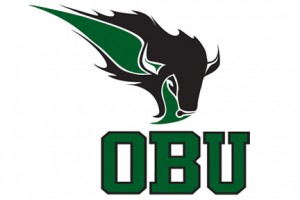 Additionally, Jensen said there can't be too many offensive linemen on campus and touted the recruits that are coming to Shawnee.
When asked about the recruiting class being made up of only high school players, Jensen spoke of the preference of his staff to have the players for four or five years and get to raise and teach the way they wanted them taught for the duration of their college careers.
When asked about his connections to the high schools in the state due to many years as a high school football coach in Oklahoma, Jensen talked about not his links to programs throughout the state, but also praised his staff and what it brought to the table. He said that Coach Melot knows a great number of people and coaches and that whoever he doesn't know, Coach Gothard does. And they bring a credibility to the program at OBU.
OSN again offers a heartfelt apology for the lack of audio and gratitude to coach Jensen for taking the time for us on Signing Day, though his audio did not make the coverage.