From ORU Sports Info.
Blake Freeland, Assistant Athletic Director – Media Relations
The Basics
Score: Oral Roberts 91 – UC Santa Barbara 87
Records: ORU (19-14) – UCSB (19-14)
Location: Mabee Center – Tulsa, Okla.
TULSA, Okla. – A hot shooting night that including eight second half 3-pointers pushed the Oral Roberts men's basketball team past UC Santa Barbara Wednesday night in the first round of the College Basketball Invitational at the Mabee Center.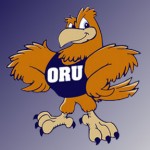 The Gauchos had no answer for Obi Emegano, who led all scorers with 30 points, shooting 9-18 from the field, 3-3 from 3-point range and 9-11 from the free throw line. Brandon Conley added a season high 14 points and led ORU with eight rebounds.
UCSB was led offensively by Gabe Vincent's 22 points, while Alan Williams notched a double-double with 19 points and 10 rebounds, his 17th double-double of the season and 50th of his career. After going 7-10 from the field and 4-4 from 3-point range, John Green added 18 points for UCSB.
Turning Point
With five minutes to go in the game, Aaron Young scored nine of the next 11 points of the game to help ORU open up an 86-77 lead with 2:40 to go.
Individual Leaders
Oral Roberts: Emegano led ORU offensively with 30 points and matched Young with four assists. Conley led the rebounding effort with eight boards.
UC Santa Barbara: Vincent scored a team high 22 points, while Williams' 10 rebounds were a game high.
Inside the Box Score
– The game featured six ties and 14 lead changes and neither team was able to stretch the lead past nine.
– Emegano led all scorers with 30 points on a 9-18 shooting effort. It was his fourth 30-point game of the season.
– Emegano led a cast of three other double-digit scorers, including 16 points from Bobby Word and 14 each from Young and Conley.
– ORU shot 55 percent for the game, including 60 percent (17-28) in the second half.
– UCSB, led by Williams' 19 points and 10 rebounds, shot 47 percent for the game. The Gauchos got 22 points from Gabe Vincent, 18 from John Green, 12 from Zalmico Harmon and 11 from Michael Bryson.
News & Notes
– ORU extended its made 3-point streak to 89 games.
– The Golden Eagles used an 8-0 run and extended it to a 17-3 run to grab a nine point lead with 8:24 to play, the largest lead for either team.
– The Gauchos answered right back with seven straight and extended their run to 11-2 to tie the game back at 73-73 with 6:14 left.
– Conley scored a season high 14 points and grabbed eight rebounds in his first start since January 10.
– After scoring 11 straight to take a nine point lead with 2:40 to play, ORU did not score again until Word hit one of two free throws with 24.0 seconds left.
– ORU notched its third postseason win since 2013, when ORU won two games in the 2013 CIT.
– The Golden Eagles also won their 12th home game of the year (12-2), the most wins since going 12-1 at home in 2007-08.
Up Next
ORU will travel to face Loyola in Chicago for the second round of the CBI on Monday, March 23.
For the latest information on ORU men's basketball, follow @ORUMBB on Twitter or go to www.ORUAthletics.com.