By Blake Freeland, ORU Assistant Athletic Director for Media Relations
Tulsa – Oral Roberts University will return to The Summit League in all sports, beginning July 1, 2014, it was announced on Thursday.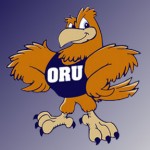 With the announcement, ORU returns to a league where it spent 15 seasons, leaving the Southland Conference after two seasons of competition. All 16 sports sponsored by ORU will compete in The Summit League.
"We are excited to have Oral Roberts University join The Summit League for the 2014-15 season," said Summit League Commissioner Tom Douple. "ORU brings very strong and well-rounded athletics and academics programs to our league."
"We are appreciative of our time in the Southland Conference and enjoy our friendships and competition with its outstanding member institutions," said ORU Director of Athletics Mike Carter. "When the Southland Conference expanded to 14 teams, some of our primary objectives in joining the Southland, such as improving travel costs and developing rivalries with selected schools, are no longer possible to achieve.  With these changes in circumstances, we believe that returning to The Summit League is in the best interest of our programs and student-athletes.  We look forward to returning to The Summit League and renewing the rivalries we developed there during our 15 year membership."
In just over one full year of competition in the Southland Conference, the Golden Eagles recorded one regular season and one tournament championship, had eight individual conference champions, 42 all-conference selections, five players of the year and two freshmen/newcomers of the year.
During its time in the Mid-Con/Summit League, ORU won nine commissioner's cups, 49 regular season and 91 tournament championships.