From ORU Sports
Blake Freeland, Assistant Athletic Director for Media Relations
TULSA – From the very beginning, the purpose of the Oral Roberts men's basketball team's trip to the Dominican Republic was very clear.
"First a foremost this is a mission trip," said Coach Scott Sutton during the first practice. "We are able to get the young guys out here and get them a little bit of a head start to their freshman years, but it will be great for our program to do some mission work and give back."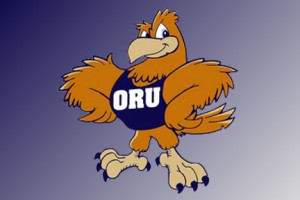 The Golden Eagles had scheduled appointments at an elementary school and orphanage, but one of the best mission opportunities came within the walls of the team bus. While en route to the orphanage, the team translator and tour guide, Nelson, got a phone call that his grandmother had passed away.
As soon as the team exited the bus, the group covered Nelson in hugs and prayer.
"I was blown away by my experiences in the Dominican Republic," said junior Aaron Young. "This opportunity was truly a blessing and this trip was about so much more than basketball. I was really excited about this trip and when we got there, what actually happened exceeded my expectations. "
After visiting with the children at the elementary school, DaQuan Jeffries had this to say: "It's always good giving back to the ones in need and knowing you made their day better. It was nice seeing the kids smile and laugh."
In addition to the community service activities in the Dominican Republic, the team also played four games in four days against various professional and club teams in the area. Despite a small roster that started with eight healthy players, the Golden Eagles posted a 3-1 record winning the final three games of the trip.
Freshman Javan White turned the foreign tour into a dunk fest, and averaged 13 points and 10 rebounds per game.  Jefferies also showed up in a big way, leading the way in the final game with 19 points and 13 rebounds.
With 24 points and 10 rebounds, including a 10-12 effort from the field, Albert Owens was the catalyst in the second game, helping ORU start the three-game win streak. Owens finished the four-game series averaging 15.3 points and six rebounds per game.