LANGSTON LIONS
Head coach: Dwone Sanders, fourth season
Last season (7-4)
It's been a step-by-step process under coach Sanders at Langston.
In 2013, the Lions went 6-4 and just missed the playoffs (in fact, they were the first team on the outside looking in ranked No. 21 in the country). Last year, they made the playoffs, but had an early exit in the first round.
But the trend is heading in the right direction for Langston.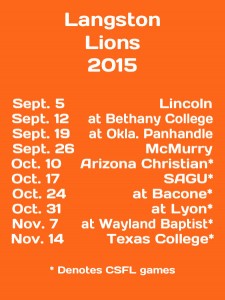 "Last year, we got knocked out in the first round, so we're looking to extend our season this year and play for the national championship. That's our goal, as always.
"But I think we have a great chance of doing that this year."
The Lions also claimed their fourth consecutive Central States Football League title in 2014.
OFFENSE
Mark Wright, Jr. is once again the centerpiece of the offense (12 passing TDs, eight rushing TDs in '14). He took over the starting job midway through his freshman year in '13 and LU hasn't lost a conference game with him at the helm. Kievon Jackson, junior, and Kenrick Robertson, senior, will be with Wright in the backfield as they will be called upon to take many of the carries as running backs. Sheldon Augustine, a returning All-American heading into his senior year, headlines the Lion receiving corps and Sanders said that he is not only outstanding to watch, but also that he is an outstanding young man. Juniors Cedric Jackson and Bruce Thompson along with Isaiah Shaputis will be joining Augustine. Javon Linley, a junior and another returning All-American, will be the center to anchor the offensive line.
DEFENSE
The defensive line has talent in seniors Jerome Muhammed and Keenan Brown, who is a pro prospect.  Terrell Encalade is coming back from an early injury last season for the D-line as well. Senior Troy Egana and junior Ray Douglas, Jr. will be solid in the middle of the linebacking unit. The departure of defensive back Chace Green to graduation is a big loss to the secondary, but he was the only player from last year's unit to leave. Back are junior Sidtrell Grayson and senior De'Amonte Miles at safety and senior Delvin Acker is described as a lockdown corner who can shut down an entire side of the field.
SPECIAL TEAMS
Michael Ryan will be kicking again this year and Isaiah Graves will be punting, as well as taking care of some of the longer field goals. Augustine will be utilized as a return man again in '15 for kickoffs and punts. Sanders said this group should really control the special teams area of the games this year.
OUTLOOK
From last year's playoff team, Langston has 10 of 11 returning on offense and eight of 11 returning on defense.
"That gives us a strong nucleus," Sanders said. "We're a balanced football team.
"I feel this is a close-knit group. These kids make up a group of great young men. I'm very excited to have these guys come back."
Only two NCAA Division II teams are on the schedule this season, and the Lions defeated both of those teams last year – Lincoln and Oklahoma Panhandle. The CSFL portion of the slate has been dispatched handily each of the last two years as well, so Langston will be looking to win a conference championship ring for the thumb this year.
It's hard to think that Langston will win less than eight games in 2015, and if things come together just right, that estimate may be too small.