NORTHEASTERN STATE RIVERHAWKS
Head Coach: Rob Robinson, second season
2014 record (0-11)
It's a new year for the NSU football program and it looks as if this season will be more of a true reflection of what the Robinson era should look like.
There have been adjustments within the coaching staff. Also, the recruiting class was larger and able to fit the needs of the program better, which also factors largely into what Robinson said would help his team improve.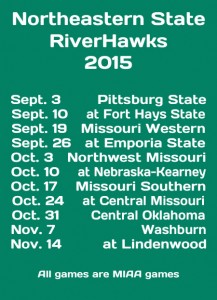 "You know, it's getting bigger and it's getting competitive within positions," Robinson said. "We didn't have that at all last year. Getting guys to compete in position battles just makes you better.
"By the third game (last year), there were no position battles to be had. And so guys got set in their ways and think, 'Even if I do bad, I'm not done playing, because there's nobody behind me."
The getting bigger part has been a focus throughout the spring and the summer and Robinson has said this has been as much a mental part of the game as it is physical.
OFFENSE
Kevin Pantastico started all 11 games at quarterback in '14, but Robinson said the junior excelled in the spring and took hold of the No. 1 spot at the position. Joel Rockmore was not at full strength for the whole season last year due to another injury, but he is back and possibly better than ever for '15. Transfers Cody Busby and Brandon English have been brought in to shore up the backfield and will push Rockmore as well.  Garrett Powell was the team's leading receiver last year (2nd-MIAA receptions per game, 5.7) and the senior is looking to finish his NSU career strong. Prince McJunkins had a good spring and Zac King came into the program recently and will factor in as receivers.
Tyler Easter is the lone returning starter on the offensive line and transfer Bubba Baldwin, who has made a big impression on the coaching staff, joins him in the trenches.
DEFENSE
Robinson said he is looking for good things from juniors Dakota Moran and Reuben Washington to provide help with the pass rush and redshirt freshman Quincy Dotson has a lot of potential on the defensive. Kenneth Davis, junior, a big playmaker last year and transfer La'More Wise are going to be looked at to provide physicality and a spark on defense. Converted receiver, junior Steffon Herd, will be relied on to direct traffic in the secondary as he is understanding the defense better in the offseason and his height and length help him cover a lot of ground.
SPECIAL TEAMS
Garrett Powell will continue to have punting duties. Eddie Garcia transferred in and is a kicker considered to be solid inside the 30-yar-line. The job of returning the football is, according to Robinson, still up in the air.
OUTLOOK
The obvious observation is that any wins at all is an improvement. And Robinson said he understands that advancements made at NSU don't preclude other factors playing in.
"We'll be better," Robinson said. "But is better going to be good enough. We're not the only team in the conference that got better through recruiting.
"We're still in a mental game of trying to get these guys to understand what it takes to win in this league. It's a process. If we play for four quarters, I think we'll be able to do some good things.
"It's still early in my tenure, but it's still taking a little more time than I would like."
It may be unlikely that NSU is ready to break into the top half of the league this season, but it is just as unlikely that '15 will repeat the results of '14.
This season's schedule is a mirror of last season's, but expect the RiverHawks to take two, three or four in the tough MIAA.