OKLAHOMA BAPTIST BISON
Head coach: Chris Jensen, third season (12-10)
2014 record (8-3)
Each of the last two years for the Oklahoma Baptist football program, which has been revived after a seven-decade absence, has presented different challenges and a different feel. And this season will feel new yet again.
After its final season against NAIA competition, OBU embarks in its first season with a full Division II schedule playing all 11 games against Great American Conference opponents.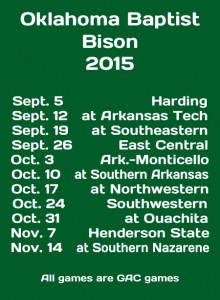 "I'm asked often if this is good timing for OBU, and I think it is," Jensen said. "I think we have players on campus that are used to the transition of starting the program and now we go through another process of transitioning to another level of play.
"And I think we're a little bit more mature in how we handle that and I think it opens the door for us to go through the process with players with the right mindset and the right attitude."
The Bison won eight games in 2014, averaging 479 yards each game on offense and put up 43.5 points per contest.
OFFENSE
There's a three-man race to take the quarterback role. Returning starter Blake Woodard likely has a bit of an advantage, but he and NEO transfer, Dez Stegall, battled during the spring. New offensive coordinator, Bradley Thomas, brings a fresh perspective to the competition in camp, which also includes Cooper Koons. Jordan Barnes and Dawson Myers combined for 1,858 rushing yards 24 touchdowns last year and are both healthy and complement one another well in the backfield. Jaelen Barlow, redshirt freshman, could see time as well. Senior Derek Serowski comes back for his final season a target in the receiving corps. Mark Knapp and Brandon Garrett have palyed guard in each of the last two years. Zach Clark, an allCSFL player in '13, returns from an injury to help on the line while Mike Myers will bring consistency to the center position after starting there in each of the last two years. Van Gray and J.T. Ketch, a defensive lineman by trade, have shown the coaching staff that each can bring a solid performance on the O-line.
DEFENSE
Returning All-American Kimes Gilbert should be a star on the Bison defensive line again this year. Ed Morgan, Jr. at nose tackle and Gage Wimer at defensive end are also starters that return. Zack Bishop and Brendyn Pitzer are penciled in to start at linebacker, but there is room for competition during camp. Nic Shegog will start in one of the corner spots. Charles Taylor came in Shawnee in the spring and could fill the other corner spot. D'Ante Meeking is a returning starter and along with Jailen Garrett are looking to fill the safety roles. Paul Smith is in his third season as the defensive coordinator.
SPECIAL TEAMS
Trey Tully was a huge weapon for the Bison last year and won the Central States Football League Special Teams Player of the Week and is back for his sophomore season. Dawson Myers has returned kicks in the past, but the returner spot is open to be taken during camp.
OUTLOOK
OBU comes in on a four-game winning streak, but will face perennial power Harding, with its triple option attack, at home in the season opener. It's the Battle of the Bison vs. the Bisons.
The next two games are on the road at Arkansas Tech and Southeastern, which should give the Bison a good idea of where they stand against this level of competition .
"The big question we have right now is how do our players measure up to who they are going to go against," Jensen said. "And you just don't know until you get on the field.
"And it's hard to speculate. So instead of speculating, I think we focus more of our attention on being the best we can be and let everything else fall into place."
Oklahoma Baptist is in its second year of the three-year transition process into full NCAA status.
OBU was ranked 12th of the 12 teams in the GAC preseason poll. This is likely because the Bison are an unknown in their new conference. Expect them to surprise some opponents in '15.