OKLAHOMA PANHANDLE AGGIES
Head coach: Russell Gaskamp, fourth season (15-16)
2014 record (7-3)
The Aggies are coming off their best season in nearly 30 years, putting up seven wins in '14 and averaging 43.3 points per game.
And OPSU brings back an explosive offensive weapon in senior running back, Chris McClendon, OSN's Offensive Player of the Year in '14.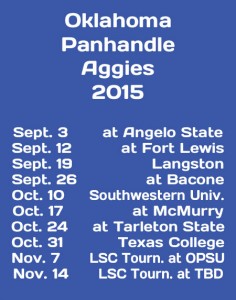 But there is a lot more than just one player that has coach Russell Gaskamp excited about his squad.
"This is the most experienced, biggest, fastest, strongest group we've ever had," Gaskamp said.
"It's also the oldest group. We had a hard time the first year coming up with a Senior Day; we now have 20 seniors.
"We definitely think going in that this is the best football team we've had on campus since we've been here."
OFFENSE
The Aggies have to replace Caleb Holbrook at quarterback and brought in transfers in the offseason to try to get this done. Shane Truelove and Jacob Morgan are still battling into camp for the starting role. McClendon is a star in the backfield, but Gaskamp said that Rob Moore is more than just a backup as he considers the two as "1" and "1-A". Terell Miles and Xavier Jones can also carry the ball. Zacari Lavender is a quick receiver who had 11 touchdown receptions in '14, while sophomore Devin Williams, who had a solid spring, and junior transfer Deondre Perry will also be available as receivers. Diego Arenas-Purvinis and Dominc White on the right side and Kevin Tankerson, Allston Hadley and  Guerrero Garcia have been rotating on the left and all of them are upperclassmen with experience and the center position will be determined during camp. Lucas Peters returns as the offensive coordinator.
DEFENSE
Gaskamp said he believes the defensive line this year will be the most explosive group he's had in Goodwell. Kameron Lyons started last season as a true freshman and junior Nate Leota is a pure pass rusher, along with senior Glenn Bonner and juniors Traray Givens and John Pitts will see time on the D-line. Senior linebacker Tanner Halford was an All-Region player in '14 and Gaskamp called him a pure football player. Neptune Joseph, a junior saw significant time in the LB position last season and should help with some younger players there. Seniors Xazier Murry and Jamel Major bring experience to the secondary, with Major coming back from an early season injury last year for a 'second' senior season. John Libby, is a junior that Gaskamp said he hopes will have a breakout season at safety. Jesse Thompson is the OPSU defensive coordinator again in '15.
SPECIAL TEAMS
A couple of newcomers, Nik Clarkson and Jacob Test, that will be competing for the kicking spot during camp.
OUTLOOK
The schedule this year for the Aggies is one that has the feel of transition.
There are still some CSFL opponents, but OPSU is moving into a football affiliation with the Lone Star Conference in 2016 and will face two of its new rivals specifically on the schedule (Angelo State and Tarleton State) and then two more to be determined in the league's championship bracket.
Gaskamp said it is tough to make a determination about how his team will fare in '15 with the offensive changes, but that he knows there will be challenges to open the season.
"Obviously, any time you go into a season with a new quarterback, you're going to be a little bit different than what you've been. We look forward to seeing the development of our quarterbacks and what they do and what kind of wrinkle that gives to us offensively from a team that was pretty darn good offensively last year.
"But I think that what it comes down to in wins and losses is that we are playing a tougher schedule this year. In the first two games, we play a team (Angelo State) that lost to the eventual national champion (Colorado State-Pueblo) in the playoffs and the only team (Fort Lewis) that beat the national champion in the regular season. And then we have an in-state rivalry with Langston in Week Three in our first home game.
"It's a tough three-game start and obviously we'll know more about our team after those games."
Even though the this year's schedule may be more difficult than last season, the Aggies bring back a lot and seven wins again this year is a realistic prediction.