SOUTHEASTERN SAVAGE STORM
Head coach: Bo Atterberry, second season
2014 record (7-5)
The first year of the Atterberry Era brought Savage Storm fans a lot to be excited about.
Southeastern had a winning record for the first time since 2009 and the team went to a postseason bowl game.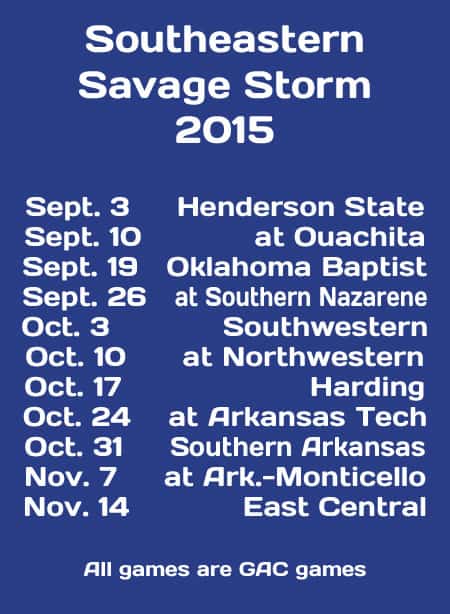 Atterberry said he and his coaching staff were encouraged with the way the team has been focused during camp.
"I've been really pleased with the way they've operated and about moving forward," Atterberry said.
Atterberry also said he is optimistic about keeping the positive momentum his program is seeing.
"Each team each year takes on a different face with different individuals. But we hope to be able to build upon that."
OFFENSE
Ryan Polite comes back for his senior season with more knowledge of the system. Devlon Wortham is back, and he has solid help in the backfield from Ronnie Green and Nelson Akinwande. With Franky Akafor and Kaymon Farmer bring experience and Atterberry is looking for more players to step up there. Reese Herred will be back to the offensive line following a knee injury and Garrett Westphal is back after a strong freshman year and Chase Peterson looks to finish his career strong on the O-line. Chad Speer will be handling the offensive coordinator position for the third year.
DEFENSE
Josh Morrison, Clay Waters, Trent Hannah, and Reggie Marshall to the defensive line, as well as Devoriweu Lavender, who saw time last year as a redshirt freshman, and Atterberry said he likes the depth in this position. Senior linebacker Thomas Curry is a leader on and off the field for the Storm, along with Rodney Mitchell and Kevin Jones. Raheem Wilson and Jacoby Sanders will likely start at the corners with Orlando Swift and Rob Gardner looking to start at the safety spots. Charles Burke enters his second season as the defensive coordinator.
SPECIAL TEAMS
Jake Walters will return and likely kick for the Storm and he and Joe Carlos are working to see who will replace the production of Jared Heim gave as the team's punter. Chance Grayson will return kickoffs while there are many options the Storm has to return punts.
OUTLOOK
Southeastern looks to be a program on the rise.
There were many positives to last season and the losses to both Southern Arkansas and Ouachita could easily have gone to the Storm.
Atterberry said he believes winning this year will be about taking care of the little things.
"It's going to take discipline. We won seven games last year. And I felt like our guys were fairly disciplined, but there were some games that came down to the end and in a game of inches, we missed on some of those inches.
It's a very competitive league and there's no room for error. We have to control what we can and do what we do to the best of our ability and hopefully the scoreboard takes care of itself."
The Storm open the season at home on Thursday night as GAC perennial power Henderson State comes to Paul Laird Field. Kickoff is set for 6 p.m.