SOUTHWESTERN BULLDOGS
Head coach: Dan Cocannouer, seventh season (21-43)
2014 record (3-7)
It's been a long offseason in Weatherford as the Bulldogs have been sorting out things to prepare for the upcoming season.
Southwestern was picked to finish sixth in the league, and wound up in a three-way tie for seventh, but earning only three wins what not the direction the team or Cocannouer expected after a winning season the year before.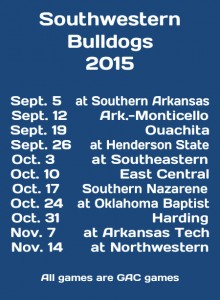 "I've been preaching all spring just how disappointing last year was," Cocannouer said. "We were such a better team. We were right there in the ballgame in the majority of our games. And that was disheartening for us."
Changes in many facets, including those among the coaching staff, were implemented. Cocannouer also said he felt good about the recruiting class coming in.
OFFENSE
There were at least five quarterbacks vying for position in the spring. That number is down to just three heading into camp: returnee Klark Ashmore and transfers Marc Evans and Brooks Robertson. Matt Farris was the backup running back in '14 and it looks like he could step into a starting role, but he will be competing with Karltrell Henderson in a backfield that Cocannouer said was likely the most talented group on the team. Whoever comes out of the QB battle will be called upon to find his receivers more often this year. Among those targets are senior Carlos Smith and sophomore Derrick Styles, as well as three tight ends that may see time in Collin Bricker (third on the team with 23 receptions in '14) and transfers Marcus Mosi and Dylan Power. Expect to see that position utilized in 2015. Seniors Nathan Butler and Landen Carson return on the offensive line. And Cocannouer will return to the duties of play calling this year.
DEFENSE
With the graduation of All-American Devin Benton on the line, other players will definitely have to step up, which Cocannouer said was beginning to happen in the spring. Returning starters Jake Doyle and Collier Ward combined for seven sacks last season with Benton around. Those numbers are likely to increase. Tyler George, who has been a staple for the Dawgs over the years, returns for his senior campaign at linebacker after an injury last season and sophomore Austin Loomis will look to continue after a season in which he was third on the team (13th-GAC) in tackles. Senior Tanner Thompson (SWOSU leading tackler, 7th-GAC) works out the secondary in an outside linebacker/strong safety role had a great spring, according to Cocannouer and could be a leader on the defense. Trevon Hartfield, a transfer from SNU, along with Conner Bays, Kapena Olson and Jamarion Rose, who could be the best athlete of the group, will make a solid secondary for the Dawgs.
SPECIAL TEAMS
Michael Perez, a redshirt sophomore, was out for all of 2014 with a broken foot, but will return to kicking duties this season. He was 12-for-12 with PAT attempts as a freshman.
OUTLOOK
Offensively, there were struggles last season. The Dawgs managed only 17.9 points per game (9th-GAC). And although, they were still in many games with a steady defense, the offense will have to produce more.
"I felt like the kids are just like I was in the springtime and ready to redeem themselves," Cocannouer said. "The offense looks so much sharper.
"We've had more kids in the weight room this summer working out and more kids on campus throwing the ball around."
SWOSU was picked eighth in the GAC preseason coaches' poll released last week. And that is alright with Cocannouer.
"One of the things I love about right now, is that the preseason poll came out and had us at eighth. Shoot, I'd have had us at 11th, and give us something to work a little harder on.
"I understand a lot of the kids may have thought we would be a little higher than that. But I told them you have to earn that respect. Until you do something else, you're just an eighth place team right now. So I think that will give these kids a little more incentive."
With the incentive there, the Dawgs will still need to finish games strongly. Six games are on the road. But there are many players in the position of having to prove themselves this year. Getting back to six wins this season is doable, but it will be a challenge.