From the OSSAA
OKLAHOMA CITY, Okla. –  On behalf of the Board of Directors and the OSSAA Staff, we wish to extend our sympathy for those that have recently lost so much.  Our thoughts and prayers are with all those that are suffering from such a tragic and great loss.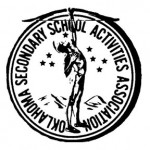 The OSSAA would like to extend an offer to anyone who may have lost any State Championship, or play-off related memorabilia or awards due to the tornados.   Any school, coach, director, or student who may have lost trophies, plaques, medals, or state championship t-shirts should contact the school for which they participated letting them know of their loss.  School administrators can contact the Association office and report the items they wish to have replaced.  We regret that we cannot replace programs from these events.    We will make every effort to replicate what is lost, and deliver it to the school, at no cost to the school, coach or student.
To report a loss, please contact Justin Tinder, OSSAA Media Relations Director, jtinder@ossaa.com or by calling 405-840-1116.