Six games into the 2013-2104, the St. Gregory's Cavaliers have emerged unscathed.
With a victory over host Oklahoma Wesleyan in the OKWU Classic, St. Gregory's is off to its best start in more than a decade at 6-0.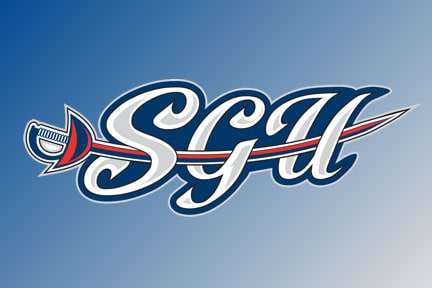 The Cavaliers held off the Eagles, 94-90, on Saturday keeping its own record perfect while handing OKWU its first loss at home in six games this season.
SGU coach John Martin said this is not something stunning to the Cavaliers.
"You know, the guys are not necessarily surprised by it," Martin said.  "Although it really is nice to have walked away from the first six games without having lost, and actually playing six pretty good teams in that stretch.
"I think the guys are pretty happy.  I don't know if it's just the type of kids that walk around these days that aren't really surprised by success as much. They kinda think it's supposed to happen to them anyway."
Saturday's game was reflective of the season so far for the Cavs.  They were trailing big at the intermission, but didn't let it deter them on the home court of a quality Oklahoma Wesleyan squad.
"They're so tough to beat at home," Martin said.  "They're a very, very good ball club and even better at home.  We were down nine at the half and usually a team down nine at the half up there doesn't come back and win."
"But we hadn't really done very many good things.  I think we outshot them by six or seven shots in the first half.  They had 11 turnovers and we had four.  So looking at it on paper, it looked like we probably should have been in a better situation, but we just took such bad shots.
"We were shooting guarded jumpers instead of trying to get closer and taking high percentage shots and getting fouled.  And that was the difference."
But a team discussion at the break turned the tide.
"We knew that to penetrate more was the answer and to get closer and get better shots.  And we did that.  And that really opened up our outside and it got those guys in foul trouble.  It got us to the free throw line and we took better shots and we actually outscored them by 13 in the second half."
Many Weapons in the Cavs' Arsenal
Marty Wilkerson once again led the way for the Cavs against OKWU scoring a game high 23 points.  But that's commonplace for the junior, who is leading his team with a 25 ppg average and also lead his team with 6.3 assists per contest.
"He gets to the hole and makes other guys look good," Martin said.  "He gets guys the ball two feet away from the glass and they can finish
"He does a lot with the ball and when he has to – when he's getting double-teamed or just he can find someone that's open – he's going to hit them.  Ultimately, he wants to win and that's a great thing to have out there."
He's not the only one out there, though.  The Cavaliers have five players scoring in double figures – Wilkerson, Tilford Thornton (16.8), Josiah Campbell (13.2), Jaron Vierra (11.2) and Richard Shields (10.7).
"Having that many weapons is good because if one guy is down, then somebody else can pick up the slack," Martin said.  "And that's what we've been able to do.
"Marty has been our leader scorer in every game, but our second leading scorer has been a different guy.  And that's really a positive for us because all of guys know that they can get it done if they are called on."
And that's without Dylan Lemley, who tore his ACL in the second game of the season.  Lemley was shooting at a torrid pace,  connecting on 13 of 16 shots from the field before the injury.
Martin has even more ready to step up with the return of Brock Vorvald to the hardwood.  Vorwald was a member of the SGU men's soccer team that just finished its season in the Sooner Athletic Conference tournament championship game.  The senior is just two weeks removed from being named the NAIA National Defensive Player of the Week.
Next Up
The Cavaliers get a bit of a break for the holiday and then hit the court the day after with the SGU Thanksgiving Classic.  They have played only once in the opening six games in W.P. Wood Field House, but Martin said he doesn't necessarily think home court is a key factor for this team.
"I don't know if it will make much of a difference," Martin said.  "Our guys have seemed to be ready to play wherever we go.  We drove six hours down and played at LSU-Shreveport and turned right back around and came home and they got off the bus ready to play.
"But I know being at home is always better because you get to sleep in your own bed and do the same routine you've been doing and get to shoot on your own goals."
St. Gregory's will host No .24 Our Lady of the Lake on Friday in a rematch of a game on Nov. 2 won by the Cavaliers, 87-84, on a last-second three-pointer by Wilkerson.  On Saturday, SGU takes on McPherson College (6-2), picked to finish fourth in the tough KCAC.