The Kerr Center on the campus of East Central University is being prepared today to once again host three days of high school basketball to close the year.
The Bertha Frank Teague Mid-America Classic is an eight-team tournament featuring premier girls basketball teams throughout Oklahoma.  It opens Monday, Dec. 29, and will run through Wednesday, Dec. 31.
Bruce Plunk, Byng High School athletic director and career tech director, is the president of the Mid-America Classic Board of Directors and said he is excited about putting on the event.
"We have a 12-member board that has been working together for the last 10 years," Plunk said.  "And we think that this is by far the most prestigious all-girls basketball tournament in Oklahoma, and maybe, in many places."
The tournament started in 1976 and had only one interruption, in 2000. The board changed over and with a renewed intensity, the tournament has been going strong ever since.
It has a corporate sponsor, but the name at the beginning of the tournament belongs to a local legend.
"This tournament is in honor of the great Byng coach, Bertha Frank Teague. It was set up just before she passed away in honor of her."
Teague was the girls basketball coach at Byng High School from 1926-1969.  Her record was an incredible 1,157-115 and she was the first woman inducted in the Oklahoma Sports Hall of Fame.
The Mid-America Classic has taken place in the Kerr Center each year of its existence and those involved try to give back to the school that hosts it.
"The tournament is very beneficial to the women's program at East Central University," Plunk said.  "We're able usually to make a donation to the women's program here."
And Plunk was certain to give credit where it is due.
"Without Vision Bank and East Central University, this tournament would not exist. They're the corporate sponsors and provide the facility to put on this great tournament."
The weather report for Ada calls for cold temperatures, but no precipitation, and that bodes well for good attendance.
"We hope so," Plunk said.  "Weather is always a key issue at this time of year. If we have good weather with no snow or ice, we'll be glad to fill this place up, especially since we don't have the local draw this year.
"This is only the second year in the history of the tournament that there is not local team, such as Ada, Byng, Latta, or one of the smaller schools around (Pontotoc) county. But we feel like we have just as good a field as you'll find anywhere, with three or four No. 1's in their class coming in and a state champion like Alva.
"We just feel like we have an excellent field of teams."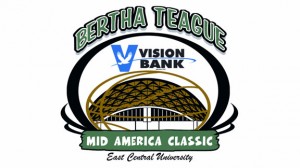 Bertha Frank Teague Mid America Classic opening day schedule
All games in the Kerr Center, East Central University, Ada
3:00 – Shawnee (5A) vs. Plainview (4A)
4:30 – Red Oak (B) vs. Alva (2A)
6:30 – Fairview (2A) vs. Anadarko (4A)
8:00 – Washington(3A) vs. Cheyenne (A)