OC Sports
Murray Evans, Assistant Athletic Director for Media Relations
WICHITA FALLS, Texas – After shooting her worst-ever collegiate score – an 83 – in the opening round of the NCAA Division II West Super Regional, Oklahoma Christian's Abigail Rigsby steeled herself for the long comeback ahead, not knowing if it would be enough.
Just barely, it was.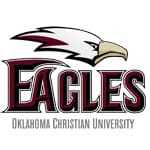 Rigsby's even-par 72 – the second-best score Wednesday by any golfer – at Wichita Falls Country Club squeezed her into a two-person playoff for one spot in next week's Division II Championship. The freshman from Courtenay, British Columbia, won with a par on the opening hole and now will be headed to Findlay Country Club in Findlay, Ohio, where the national tournament will be played next week.
"It's kind of surreal making it to nationals," Rigsby said. "I didn't think I'd make it my freshman year."
Rigsby is the second OC player in as many years to qualify for the Division II tournament as an individual, and she did it in a similar fashion to former OC standout Audrey Meisch, who rallied on the final day of last year's Super Regional. Rigsby's rally, though, extended over two days after her disastrous start to the tournament on Monday.
"I thought I had put myself out of it on Monday," Rigsby said. "On Tuesday, I just wanted to go out and try to enjoy myself and not let my emotions get the better of me, and just do the best I could. I ended up having an under-par round."
The philosophy was much the same for Wednesday, except Rigsby felt awful, dealing with the effects of what she thinks was a case of food poisoning. Even so, she birdied her third hole, the par-4 No. 12, and got to 1-under for her round with a birdie on the par-5 No. 3. She had two bogeys in her next four holes before closing with a clutch birdie on the par-4 No. 9.
"I spent the better part of the day sick," Rigsby said. "I was just going through the motions honestly. I was just taking one shot at a time, just trying to get through the round without having to withdraw."
OC coach Greg Lynn said Rigsby plays better when she does go through the motions.
"She can be robotic out there," Lynn said. "She just sticks to her routine. The first day, she was so nervous. She didn't walk right or talk right. That was gone the second day and she started going through her routine. She's almost unbeatable when she's like that."
On Tuesday, she posted the best score in the 66-player field, a 1-under 71 that also was her career-best round. On Wednesday, despite her illness, she was one of only two players to shoot even-par or better on the 6,149-yard course, and she finished the tournament at 10-over 226. After her birdie on the final hole, she then had to wait.
The top three individual finishers who weren't on the three teams that qualified for the national tournament – West Texas A&M, Dallas Baptist (Texas) and St. Mary's (Texas) – would make the national field. Casey Wild of Tarleton State (Texas) finished at 7-over, sealing one spot. Linnea Karlsson of California State-Monterey Bay snagged another spot with birdies on two of her final three holes to finish at 8-over.
But Mary Weinstein of Regis (Colo.) stumbled over her final two holes, posting a double bogey and bogey, to finish at 10-over, putting her into a playoff on No. 18 with Rigsby for the final spot.
Rigsby hit a 300-yard tee shot into the fairway, while Weinstein's shot found the rough. Rigsby's second shot, a wedge from about 70 yards, landed on the green, about 30 yards from the hole, and she two-putted for par. Weinstein's second shot went into a greenside bunker and she couldn't recover, eventually bogeying the hole.
Rigsby tied for 10th, her fifth career top-10 finish in 12 tournaments.
OC's second individual in the tournament, sophomore Kate Goodwin, finished tied for 46th at 241, a six-spot improvement over her second-round standing. Goodwin shot an 80 on Wednesday and closed with a pair of birdies over her final nine holes, at the par-5 No. 3 and the par-4 No. 5.
West Texas A&M won the 12-team tournament with a three-day score of 897, two shots better than Dallas Baptist. St. Mary's rallied to finish third at 912, one shot ahead of California Baptist, and StMU's Regina Gonzalez earned medalist honors, beating Wild by one shot.