Moving a school to another conference can be difficult in a myriad of ways, but among the top for the fans is trying to figure out who the new rival will be.
In the case of Central and Northeastern State, this didn't prove to be much of an issue.  When the two schools moved to the MIAA, each took the rival with them.
On Saturday in Tahlequah, the Bronchos and the RiverHawks meet for the 74th time.  UCO holds a 45-26-2 advantage in the series and won the first meeting back in 1912, but 100 years later, NSU returned the favor in 2012.
The teams have been vying for the President's Cup since 1998, and in that span, the series record is much closer, and Northeastern State holds the slight lead of 8-7.
The Bronchos (2-7) are coming in as winners of their previous two contests.  And although those are the only two wins of the season, UCO coach Nick Bobeck said his team is upbeat near the close of the season.
"It's been good," Bobeck said.  "You always feel good when you get a couple of wins under your belt.  We've been able to run off two in a row, which hadn't been done here since 2009. That's been a big deal for us.  We feel good about the growth and the direction of our program."
Bobeck said the victories are big as he is continuing to rebuild the program.
"We're excited for the kids and we want to continue to grow and to finish it off this week," Bobeck said.  "We haven't won three games in a row since 2008, when they won the North Division in the Lone Star Conference. So obviously, the sanctions did their job there towards the end of all of that, so we're trying to get it back out of that hole."
Central suffered the loss of scholarships, among other things, in 2008-09 and 2009-10, but the sanctions are in the past now.
Just like the brutally tough succession of games to open the season.
In Central's first six games, the opponents combined for one loss among them after six weeks.  But Bobeck's team kept working hard.
"Our kids are responding well toward the end of the season.  It would have been easy to just fold our tent."
And among the bright points in the season is the production that has come from senior running back Joshua Birmingham and junior receiver Marquez Clark.
Birmingham has scored six times in the last two games. He is second on the all-time career rushing list and would make it to the top with 199 yards rushing against NSU this weekend.
"He's meant a great deal to the program, and not just my two years here," Bobeck said.  "He's had a great career here.  Hopefully, he'll continue through this last game.
He will come into the game with 957 yards rushing and could become the school's second player to rush for at least 1,000 in three season.
"We hate to see him go, but there are other things out there for him. He's about to finish up his degree and we're very proud of him."
Clark has exceled this season with seven 100-yard receiving games and had 335 all-purpose yards against Emporia State.  He has also been nominated to win the 2013 Harlon Hill Award.
Now the rivals loom for Bobeck's team.
"Having played here and been a part of it, it's a big deal.  It's an exciting game and a lot of fun to participate in the game.  A lot of the guys on both sidelines know each other since high school and junior high, so there'e some stuff that goes back a little further than just a college football game.  It gets a little more heated.
"We're looking forward to it.  It's a big deal for us with the opportunity to finish the season with three wins in a row.  It's about finishing strong and going into recruiting and into the offseason and winter conditioning."
A win would mean not only the third of the season for UCO, but also the 600th is the program's storied history.
The RiverHawks would like to keep that milestone victory from happening in Tahlequah.
NSU coach Kenny Evans said this game is huge.
"I think it's big for our players," Evans said.  "There is a lot of competition between the two schools in every sport.  They've become our big rivalry.  And since we've gone to this new league with Central and ties administratively with both schools, it's really big.
"And of course, there's the President's Cup.  So there's a chance for our guys to win something besides just a game.  And there are bragging rights because a lot of our players visited Central and a lot of their guys visited here."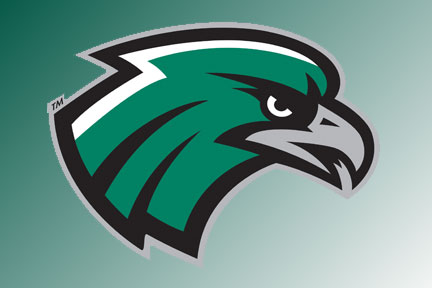 Northeastern State (1-9) and Central have many similarities on this season, and not just the schedule the travel partners have endured.  The injury bug morphed into an injury swarm and victimized both squads.
Evans knows his team has been playing from behind through this season.
"It's just the position we're in right now," Evans said.  "Go back to Week 2, we lost 10 starters, in the preseason and in the first two weeks.
"We're playing a lot of young guys.  In our two-deep, we're playing 34 freshmen.  There are four or five true freshmen that are starting for us."
It really hit hard when the RiverHawks' highly-touted senior quarterback, Johnny Deaton, went down in the first week.
"We knew when we lost our quarterback and we lost our backup in the summer, and then we lost our tailback, and you know, two defensive ends, a defensive tackle, an offensive tackle…  things were going to be tough and we were going to be young.
"But to these guys' credit, they've competed every week.  They've gotten better every week."
As Evans mentioned, the starting quarterback wasn't the only skilled position player injured.
"When we lost Joel Rockmore, the preseason All-American, we were really banged up.
Actually at one point, we weren't sure who was going to be the running back if Terrance Dixon (second on the two-deep at the start of the season) got hurt, and he was banged up.
"Steven Hopper came here in 2010 as a running back as did a good job for us.  And then for personal reasons, he left school.  When he came back, we just talked about the safety position, because we did have a pretty good corps of running backs.  But the injuries changed that pretty quickly and we knew that he could do the job."
Dixon and Hopper each have more than 500 yards rushing on the season.  Hopper picked up 228 against Southwest Baptist in the RiverHawks' only win this season.
Both coaches see the running game as the key to winning on Saturday.
"Both sides of the football are going to have to establish the run game," Bobeck said.  "And both sides are going to have to try to stop it, as well.
"That's what they do well; that's what we do well.  The team that's successful in doing that will be the team that ends up winning the ballgame."
Evans echoed that sentiment.
"Number one, we have to stop their running game," Evans said.  "They have one of the best running backs in the MIAA, and probably in the country at this level, in Birmingham.  We definitely have to stop him; that's a big key.
"And on the other side, we have to establish a running game again like we did against Southwest Baptist and like we did last week at times.
"That's going to be a big key – who is able to rush the football.  They have some other big weapons, too, but that's usually a big key at this point in the season."
The 2013 edition of the Battle for the President's Cup kicks off Saturday at 1 p.m.