From NSU Sports Info.
Cedrique Flemming, Assistant Athletic Director for Media Relations
BROKEN ARROW, Okla. – The No. 11-ranked Northeastern State women's tennis team defeated Southeastern Oklahoma State 5-1 to win the 2016 NCAA Central Region 1 Championship Monday afternoon at The Club at Indian Springs.
The RiverHawks (20-3) advanced to the NCAA Championship Round of 16 and will now face No. 7 Hawaii Pacific on May 18. The national finals will be held May 18-21 at Gates Tennis Center in Denver. This marks the 10th time in school history and the fourth year in a row that NSU has qualified for the NCAA Round of 16.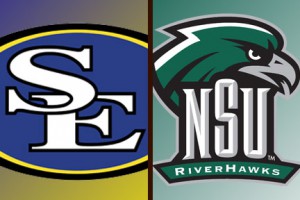 The Savage Storm (14-4) saw their season come to a close after they had their 12-match win streak snapped by Northeastern State.
The RiverHawks, who were the top seed in the NCAA Central Region, got on the board first when junior Valeriia Efimenko and sophomore Daria Panferova took down Darija Catipovic and Ilga Racika-Racko 8-1 at the second doubles position.
Senior Patricia Husakova and sophomore Molly Worden quickly followed with an 8-1 on the top court over Anna Buiukian and Franzi Richtsfeld.
Conchi Assiego and Maria Martinez were able to earn the lone point for the Savage Storm at the third doubles flight, grinding out a 9-7 victory over sophomore Easton Parker and true freshman Karla Tomaic, but NSU would get revenge as both Assiego and Martinez would fall in singles play.
Panferova kicked off the dual portion of the match with a 6-1, 6-1 win over Catipovic on the second court, and the RiverHawks then clinched the team victory when Efimenko and Tomaic quickly took down Martinez and Assiego on the third and sixth courts, respectively.
Tomaic won 6-0, 6-4, and Efimenko shut down play with a 6-4, 6-0 triumph.
Northeastern State was one game away from clinching all three of the remaining matches, but they all went unfinished as is standard in postseason play.
Tennis Match Results
May 09, 2016 at Broken Arrow, Okla.
(The Club at Indian Springs)
 No. 11 Northeastern State 5, Southeastern Oklahoma State 1 
Singles Competition
1. #12 Patricia Husakova (NSU) vs. Anna Buiukian (SE) 6-3, 5-2, unfinished
2. Daria Panferova (NSU) def. Darija Catipovic (SE) 6-1, 6-1
3. Valeriia Efimenko (NSU) def. Maria Martinez (SE) 6-4, 6-0
4. Molly Worden (NSU) vs. Franzi Richtsfeld (SE) 6-1, 5-0, unfinished
5. Easton Parker (NSU) vs. Ilga Racika-Racko (SE) 6-4, 5-1, unfinished
6. Karla Tomaic (NSU) def. Conchi Assiego (SE) 6-0, 6-4
Doubles Competition
1. Patricia Husakova/Molly Worden (NSU) def. Anna Buiukian/Franzi Richtsfeld (SE) 8-2
2. Valeriia Efimenko/Daria Panferova (NSU) def. Darija Catipovic/Ilga Racika-Racko (SE) 8-1
3. Conchi Assiego/Maria Martinez (SE) def. Easton Parker/Karla Tomaic (NSU) 9-7
Match Notes
Southeastern Oklahoma State 14-4; Northeastern State 20-3, national ranking: No. 11
Order of finish: Doubles (2,1,3); Singles (2,6,3)