The RiverHawks saw much improvement from the first weekend to the second, but injuries are keeping the team from fielding the same roster in consecutive games.
This weekend will be not different, as there will be a change in the backfield.
Joel Rockmore tore his ACL in his right knee in last week's contest against Missouri Southern, according to NSU coach Kenny Evans.
The RiverHawks' head coach was impressed with Rockmore's performance (145 rushing yards) against MSSU, and even more so when he factored in that the running back played through an injury.
"He did almost half of that with an ACL tear," Evans said.  "That tells you a lot about the strength of that young man.  We're going to miss him."
Rockmore is third on the school's career rushing list (1,747 yards) and third in rushing touchdowns (15).  He is going to have surgery on the knee.
Evans is not without players that can carry the ball.
"Terrance Dixon has done a great job for the last two years and this year in a reserve role," Evans said.  Dixon has 888 rushing yards in his career at NSU.
NSU has another option in a player listed on the current roster as a defensive back.
"We have Steven Hopper back.  He's a former player from Broken Arrow who is an all-stater, who signed with us and then laid out for a couple of years.
"He's a great running back, so we feel like we're in good shape there and we're going to have rely more on our running game as Thor (Long) develops.
Long got his first start at quarterback for NSU in last week's game.  He was 8-of-17 passing for 111 yards in his debut.  He also saw action in the RiverHawks' season opener, filling in for injured senior QB Johnny Deaton.
"We lost Johnny in the second quarter of the Pitt State game, which was a big loss," Evans said.  "He's a two-year starter going into his third season and he has broken bone in his right leg and will probably be out for the season.  We will apply for a hardship and try to get his senior year back, if that does happen.
"But Thor did a great job coming in. Sometimes a guy just needs a chance.  He kept things in tact.  He did have that interception, but that's game experience and that the thing he lacks.  He'll get better and better.
"Those are the things that happen in college football and the attitude of this young team is 'next guy step up.'"
Consistency is not a luxury Evans has in some positions, but he said he believes his team is progressing.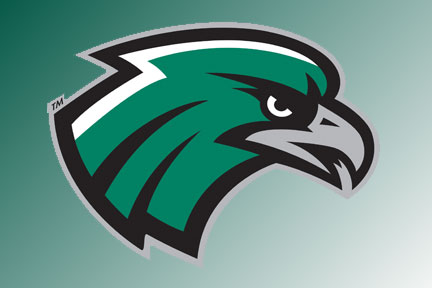 "We bounced back from that (loss against Pitt State) last week against a good Missouri Southern team, which had scored 57 points the previous week.  We basically shut down that option attack.  We shut them out and made them punt on all six possessions in the second half.
"For a young team that is playing through injuries right now, it was great to see those young guys compete the way they did.  They gave us a chance to win the game.  If we continue to improve the way we did between games one and two, we still have a lot of good football left this season."
Langston Jones had great play for that defense and was recognized by the MIAA as the league's Defensive Player of the Week.  And Evans said that not only was he pleased with the effort of his linebacker, but also that the whole unit set up Jones' achievement.
"To face the offense that Missouri Southern ran, you have to be very disciplined on defense and very unselfish," Evans said.  "You have to do your job.
"We ran a scheme that allowed us to have some second level players stay free and make some plays.  Langston was one of those guys.  He had 21 tackles – that was a personal best for him.
"He's coming back as a pre-season All-American that led the MIAA in tackles a year ago.  I don't think we had a player of the week a year ago, so this is our first.  But I hate that happened in a loss."
And Evans said he thinks the defense will build on what it was able to accomplish against MSSU.
"I think our defense took note that we had a shutout in the second half and that we did stop their option. We forced them to punt and forced them to do some things that they don't want to do on a lot of downs."
The RiverHawks face a strong Washburn team Saturday in Tahlequah.  And the game plan will look different once again.
"This week we have to get back to running our normal defense," Evans said.  "It's a different type scheme, one that's very similar to Pittsburg State.
(Washburn head coach) Craig Schurig coached at Pitt State for years. And offensively and defensively, they're kind of a clone.
"They do a great job and they're very well coached.  We have to definitely improve on our style of play and the way we played against this offense in week one."
The RiverHawks will be going at the Ichabods with an offensive group that looks different than the preseason preview of the team showed.  Evans said that his team was continuing to improve on both offense and defense, but that this weekend they "have their hands full on both sides of the ball."
With none of the state's Division I teams playing this weekend, NSU is inviting fans to come to Doc Wadley Stadium to see the RiverHawks host Washburn on Saturday.  Kickoff is set for 6 p.m.