Sarai Rodriguez has had a fantastic season.
She set Mid-America Christian single-season school records with 674 points scored and 101 three-pointers made.
And Rodriguez added to the list of awards she has been compiling as she was named the NCCAA Division I Women's Player of the Year.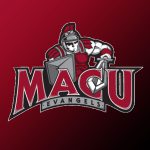 Rodriguez earned the NCCAA Player of the Week honor five times of the course of the season, most recently last week as she averaged 22.5 points per game and led Mid-America Christian to the NCCAA Central Region championship. She was also named the Central Region MVP.
The junior crossed the 1,000-point mark on Saturday in NCCAA national third-place game against Roberts Wesleyan. And she added to a list of honors that has included being named to the First Team All-OSN team as well as the First Team All-Conference in the Sooner Athletic Conference.
She was joined in receiving NCCAA honors this week by teammate Mikayla Flores, who was named the All-Tournament Team for her play last week.
Rodriguez is the second player from Oklahoma to earn the NCCAA top honor. Randall University's Trey Sneed was named the NCCAA Division II Men's Player of the Year this season.