From RSU Sports Info.
Scott Slarks, Assistant Athletic Director for Communications
FORT SMITH, Ark. – The Rogers State women's golf team closed its final regular season tournament by winning the UAFS Lady Lion Classic after posting a 296 team score Tuesday at Hardscrabble Country Club.
The Hillcats landed three players in the top five earning all-tournament team honors for their first event title since claiming a victory at the Mystic Creek Fall Classic Sept. 29-30, 2014. All five players in the lineup net rounds below the scoring average of the final day helping propel the win and equaling the best team score of the season.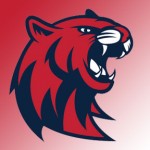 Mica Eastin led the charge for the navy and red by matching the school record, carding a 1-under-par round of 69. The junior finished as the only player to fire an under-par score in the tournament placing second, one shot behind the individual winner. Eastin ranked in the top three in scoring in all three par categories and led the field in par-four scoring at 3-over-par, while registering 27 pars in the 36-hole event.
Tied for the event lead with five birdies, Kina Boone recorded a third-place finish for RSU inking the best round of her career, a 1-over-par 71, in the second round. Boone ranked first in the field in par-three and par-five scoring playing the threes at even par and going 2-under-par on the fives during the two rounds.
Chelsea Burney showed the biggest improvement for the Hillcats jumping into sole possession of fourth place behind a round of 4-over-par 74 Tuesday. The senior picked up the second top-five performance of her four-year career at RSU tying the best round of her tenure in the finale.
Stirling Phillips rounded out the scoring for the team with an 82 to land in the top 10 tying for ninth place, her second-consecutive top 10 result, while Elizabeth McCloskey added an 84 to finish 17th overall. Phillips tallied two birdies for the tournament and McCloskey carded three for RSU.
Competing as an individual, Raquel Trevino posted a 78 in the final round to place in a ninth-place tie at 158 behind two birdies and 19 pars.
Anne Stiles from UA Fort Smith picked up the individual title shooting a final-round score of 73 holding off Eastin's rally by one stroke.
The Hillcats put the finishing touches on the 2015-16 season at the Heartland Conference Championship April 18-19 in Horseshoe Bay, Texas. RSU plays two rounds at the Apple Rock course at Horseshoe Bay Resort.
1 Rogers State 308-296-604  
2 Mica Eastin 76-69-145
3 Kina Boone 76-71-147
4 Chelsea Burney 80-74-154
T9 Stirling Phillips 76-82-158
17 Elizabeth McCloskey 82-84-166
T9 Raquel Trevino (Individual) 80-78-158