By Brad Collins, SGU Sports Information Director
BARTLESVILLE – St. Gregory's notched another quality early-season win Friday, downing College of the Ozarks (Mo.) 88-78 in the first game of the Oklahoma Wesleyan Classic. The Cavaliers staved off a late Bobcat rally to improve to 5-0, the program's best start since the 2009-10 season.
C of O, which entered the game at 6-1 with wins over two top 10 teams, nearly overcame a 19-point, second-half deficit to shock the Cavaliers. However, led by leading scorer Marty Wilkerson and strong free-throw shooting down the stretch, SGU held off the Bobcats.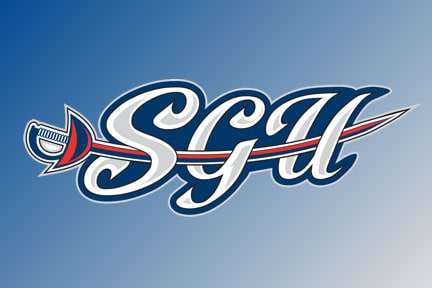 The Cavaliers shot 49 percent from the floor and forced 22 C of O turnovers. Wilkerson led all players with 27 points – his fifth-straight 20-point game to start the season. Junior Jaron Vierra had a career-high 18 points with nine boards.
The Cavs carried the momentum of a strong first half into the second frame and led 68-49 with 14:02 to play after a Wilkerson bucket. But over the next 8-plus minutes, C of O outscored SGU 20-6 to make it 74-69 with 5:44 left.
The teams went back and forth from there, but SGU hit 6 of 8 from the charity stripe in the last two minutes to put the game away. The Cavs, which had done a good job on the Bobcats' leading scorer Nathane Simniok in the first half, won despite allowing him to score 16 in the final 12-plus minutes.
SGU started and finished the first half strong. The Cavs hit seven of their first 11 shots from the field and built a 15-6 lead just five minutes in. It was 27-17 with 8:51 to play when the Bobcats cut into the lead via a 10-3 run to close to within three at the 5:10 mark.
But led by Wilkerson, the Cavs regained the momentum going into the break. In the last five minutes, SGU outscored C of O 23-7 and staked itself to its largest advantage, 53-34, at halftime after a T.J. Thornton trey just before the buzzer.
The Cavs shot 58 percent and outscored the Bobcats 26-14 in the paint in the first 20 minutes.
SGU concludes its stay in Bartlesville Saturday against classic host, Oklahoma Wesleyan. Tip time is set for 8 p.m.