DURANT – The Southeastern men's team apparently took the attitude with the women's team of "anything you can do, I can do better" on Saturday night.
The SOSU women earned a hard fought victory over NWOSU, capped by a three-pointer with 30 seconds left in overtime to give them a lead they wouldn't relinquish.  The men made it more dramatic.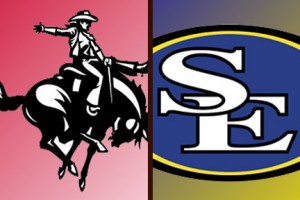 With the ballgame tied at 67 apiece and also in overtime, Taylor Smaller hit a three-pointer with 0.4 seconds remaining to lift the Savage Storm to a 70-67 victory over the Rangers men's team.
Smaller had a game high 19 points for the Storm, who brought both the overall record (6-6) and the conference record (2-2) up to .500.
Northwestern fell to 2-7 overall and 1-2 in the Great American Conference.
Southeastern coach Kelly Green said he knew his team had played a worthy opponent, but was thankful for the win.
"I don't know how we did it," Green said.  "We didn't play particularly well and I though they made every shot.  Every time we did something defensively, they had an answer for us.  They made all the big baskets.
"But we got a couple of big stops late in the game.  We're just fortunate that Taylor hits a – I don't know, I guess in football don't you call it a Hail Mary?  Well, Merry Christmas to us."
Danny Powell (18 points, 15 rebounds) and Darius Harris (15 points, 11 rebounds) each had a double-double in the win.
Four players scored in double figures for the Rangers, who took the lead with seven minutes left in the first half and led by four at halftime.
T'aries Taylor hit two three-pointers in the opening minute of the second half to extend that lead to 10.
Taylor had 11 points and Darrian Dempsey led his team with 14 points.
The Rangers held the lead until the final two minutes of regulation, when Southeastern's Anton Cook hit a jumper to give SOSU a 62-61 lead.
The Storm had the ball late and Sami Bzai was fouled.  He hit only one of two free throws to leave the door open for the Rangers.
Adrian Motley hit a jumper with three seconds left to tie things up at 63-63 and forced the extra session.
Northwestern made four of the first five points in overtime and went up 67-64 with 3:46 left, but didn't score again.
Green reflected on this win, compared to Southeastern's big upset victory over Tulsa earlier in the week.
"I know it was a great win on Wednesday.  I know it was an important win tonight."