From SNU Sports Info.
David Noblett, Sports Information Director
BETHANY — If you would have told Kevin Ingram that none of his players would have double-figure kills and the match would end in three sets, he might have left the Sawyer Center a bit downtrodden. While the match did end in three sets, it was Southern Nazarene who swept Southwestern Oklahoma State, 3-0 (25-20, 25-20, 25-18), in the final home match of the season.
The Crimson Storm (15-15, 11-4 GAC) locked up the second seed in the Great American Conference Championships for the second straight year and guaranteed a top three finish in the regular season for the third straight year. It is also the first time SNU has been .500 or better since starting 2-1, and it is the first time this year the Storm have won three straight matches.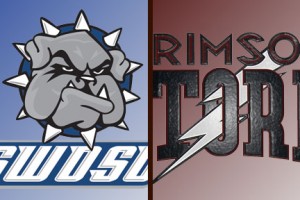 Six different players combined for all 42 kills for SNU as the Storm hit .220 (42-13-132) and held the Bulldogs (18-11, 9-6) to just a .062 clip. All that while no SNU player had more than nine kills.
Elyse Berlin held up to the recent GAC Setter of the Week selection as the sophomore dished out 35 assists and had 14 digs to go with two aces, a block and two kills. Courtney Bowie and McKayla Benner each had nine kills while Bowie had four blocks and Benner had five. McKenna Qualls had eight kills, three blocks and an ace. Lexie Matthews and Kaitlyn Vought each had seven kills Vought had four blocks and 14 digs while Matthews had three blocks and an ace.
SNU had 11 team blocks on the night and SWOSU had just one. The Storm and Bulldogs traded five leads in the first set. Southern Nazarene trailed 19-17 late in the set when SNU went on an 8-1 run capped by a Berlin kill to take the first set home.
The Storm trailed the majority of the second set and were down by as much as four, but used a 10-4 run started by a Vought kill to take set point at 24-18. The Bulldogs cut it to 24-20 before Qualls put it away to give SNU a 2-0 lead in the match.  In the third, SNU took a 7-6 lead and never looked back to cruise for the sweep.