It took McKenzie Stanford a few games to get going this season.
Granted, her Oklahoma Christian Lady Eagles were playing some pretty tough competition. OC opened the season with a 1-5 record and three of the first six opponents are ranked in the top 20 of the latest WBCA D-II poll.
Defenses held her in check through those first six games as she averaged just 8.7 points per game, shooting just 28 percent from the field and was made just one three-pointer in 17 attempts.
"I struggled through the first part of the season, especially those first games," Stanford said. "But I've gotten my rhythm back."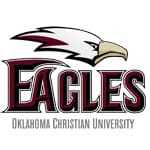 Indeed.
The Monday following Thanksgiving, OC hosted USAO and took down the Drovers, 90-51. And Stanford broke out of the slump. She went for a double-double of 13 points and 10 rebounds and hasn't really looked back.
She has now scored in double figures in 16 straight games and the Lady Eagles are 10-6 since the turnaround. The senior has also hit 43 percent of her shots from the field and 32 percent from behind the arc, while averaging 20.6 points per game during that stretch.
But Stanford is ready to defer the credit.
"A lot of my success comes from my teammates passing me the ball," Stanford said. "Being a post player, without those passes, I wouldn't get the ball. A lot of my success comes from them.
"And you know, my coaches believe in me and that's carried over to me believing in myself more."
Stanford is a star on the basketball court for Oklahoma Christian, but has also become one of the school's most decorated athletes as she excels in track and field, as well.
She is one of only two athletes in school history to be named an All-American in two unrelated sports – in the NCCAA in basketball and track and field in 2015 and in basketball in the NCAA Division II in 2016.
When playing basketball it is important to have the right shoes for the job, which is why ShoeAdviser gives an excellent breakdown of the correct basketball shoes to wear, and why.
And Stanford is able to use one sport to help her with the other one.
"It's just nice going from basketball to track and letting track free my mind from basketball. In that period, I just go out and have fun.
"I came here for basketball, and I went out for track to have fun and see how it goes, but I've been successful at it. And that's a bonus."
That's not all she does to relax.
"I've shown cows all my life. Ever since I could walk, I've been on a lead rope, leading on. It's awesome. Everyone always asks, 'What's your favorite animal?' And I'm like, Cows. I've just grown up with them all my life."
Stanford enjoys spending time at her grandparents' dairy farm near Cushing.
"My grandparents own 150 head of cattle that they milk. And they watched me when I was little before I went to school when my parents were at work. So I've just been around it all my life."
She can't lead the cows onto the court, but her basketball coach Stephanie Findley said she is a leader.
"She means a lot as far as, obviously, scoring and rebounding," Findley said. "Stats-wise she means a lot.
"But she's a very good leader off the court, in the classroom, wherever it might be that you need somebody, she's willing to anything and everything to be a service to the team, or be a leader for the team, to pull the team together, whatever she can do, she's willing to do it. She's just a coach's dream."
And it is a fortunate thing that Stanford is at Oklahoma Christian at all. Coach Findley was headed out to Perkins-Tryon to look at another player on the recruiting trail and got the added bonus of getting to watch Stanford, too.
"They had a post girl who was bigger than (Stanford)," Findley said. "We were looking for a post girl and we went initially watching her. And in the first game we saw McKenzie play, we immediately starting talking to her, as well.
"Perkins pressed and she was up on the front of their full-court press, pressuring the ball out of bounds and then playing the front of their trap. She reminded me a lot of Roz Hamilton from Idabel that we had here for several years.
"Roz was getting to the point that she was about to graduate. And I said, 'Man, she would be a good replacement for Roz,' and it's turned that's exactly what she's been. We just kept the baton passed between those two and we've had that similar player for eight years now, I guess."
And the timing worked out well for Stanford, too, as there weren't as many people who had seen her play because of her move.
"I didn't get to play my junior year, because I transferred from Cushing to Perkins and my hardship didn't go through. So the recruiting process was a little harder for me.
"Coach Findley saw me and they called me and asked me to come on a visit. And when I came up here, I absolutely fell in love with the campus, the people, the coaches. And before I left, I committed. And it's been great ever since."
Stanford is working on a degree in sports wellness and recreational management and plans on getting her alternative certification so she can teach and coach. But that may take a back seat for a little while as she said she wants to get her master's degree now, so she won't put it off and then not come back and do it.
And she said she hopes the people at Oklahoma Christian remember her not only for what she has done in sports, but also for the person she is.
It is apparent her coach will.
"In my mind, it's her smile. She's always very positive kid. And eager to help and do whatever you want her to do.
"She's one of the hardest workers we've ever had. She's always in here working on her game on her own time. She doesn't ever ask you to rebound for her or anything. She'll go out there and chase the ball herself. She's just a really hard worker.
"But her personality and pleasant disposition are maybe the things I think about the most."
Stanford said she just wants to try hard every day, work hard every day and come in with the mindset to be better today than yesterday.
"I've been blessed," Stanford said. "I've had a lot of success here. And all the glory is to God.
"Coming to Oklahoma Christian, I've gotten to grow stronger in my faith. Yes, I was here for school and basketball, and coming to a place where I can grow my faith was really something.
"I believe God puts you in places for a reason, and He really did put me here for a reason."
Sponsored Content