OCU will be more familiar with the Big 12 than the SAC before the month of December rolls around.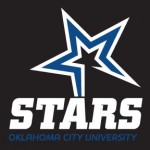 The OCU women's basketball team takes on Texas A&M and Baylor in its preseason exhibition schedule to open the 2013-2014.
The Stars are coming off a 28-4 season and another Sooner Athletic Conference title.  Playing difficult opposition prior to the start of the regular season seems to be appropriate for a program that consistently reaches a high level.
And difficult opposition may be a small understatement.
Baylor won the NCAA Division I national championship in 2012, while Texas A&M brought home the title the previous year in 2011.  Baylor also won the championship in 2005.
OCU has won six NAIA national titles with the most recent coming in 2012.  If the Stars are to reach the pinnacle once again, early season preparation like this against such top-notch teams should do that much more to help them get there.
The Stars face A&M in College Station on Sunday, Nov. 3, then travel to Waco to take on Baylor on Tuesday, Nov. 5.