OCU and coach Phil McSpadden are no strangers to the NAIA softball world series.  And the Stars, now in the 23rd consecutive trip to the championship round, picked up wins during the first two days in Columbus, Ga., in two different ways.
Oklahoma City dismantled Simpson (Calif.), 15-2, in the opening game Friday.  Five players had multiple hits and Jocelin Diaz went 3-for-4 and picked up five RBIs.
The eighth-seeded Stars took on top ranked and No. 1 seed LSU-Alexandria on Saturday and plated the only two runs of the game in the third inning and held on for the 2-0 win.
"It was definitely a contrast of ballgames," McSpadden said.
"Simpson had a great resume in that they knocked off the defending champion.  But they gave us some runs early and it just kinda got ugly.  The pitcher didn't seem to move it around that much and just focused on trying to throw strikes.
"The second ball game was a little different story.  The (LSU-Alexandria) pitcher changed speeds well and definitely had some spins and wrinkle on it and we didn't tee off on her."
As it stood, the Stars were able to pile up runs or manufacture runs.  It was a matter of what the situation dealt them.
Meanwhile, senior pitcher Danielle Fox has picked up two more wins, running her record to 22-3 on the season.
"She's done a great job for us," McSpadden said of his pitcher.
"It's kinda interesting the way things work.  I think the ultimate compliment you can pay someone is to say she's an overachiever.  Dani was one of those.
"During the course of her career, her evolution, he's turned into our "go-to".  I know the young ladies playing behind her are very confident right now that she's going to throw good pitches and hit good spots and not make too many mistakes over the plate."
And Fox is just as complimentary of her teammates.
"My defense was awesome, they made stellar catches," Fox said, following the tight win over LSU-Alexandria.
"My pitches were working, but my defense was incredible. They work together as a team, and it's fun and I like being in that moment."
McSpadden said his pitcher, who has shut out four of her last five opponents, has been versatile.
"Dani's doing the right things," McSpadden said.  "If we need a bunt popped up or if we need a ball hit to the left side as opposed to the right side, she's hitting her spots and doing the right thing and people are making plays behind her."
The offense is there for the Stars as well.  OCU is second in the NAIA in hits (600) with Kyndra Holasek leading the way, batting .518 (yes, .518) and notching 117 of those hits.
"Kyndra has a lot of pluses," McSpadden said.  "She's got decent enough foot speed that she can bunt her way on, but she's got some pop.  And she sprays the ball well."
Holasek had two of the Stars' three hits in the win over LSU-Alexandria on Saturday and the lone RBI.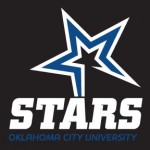 "We score because Kyndra shoots one down the left field corner, literally right by the third baseman.  She hits it hard and it goes all the way to the corner and we score from first.  And we got the second run with Kyndra at third off the triple or double and we got a wild pitch.  I don't know if she's hit one to left field all year, but she can go to left field.
"She just does everything for us and a good hitter obviously sprays the field and that's what she's doing."
And the Stars, now 54-11, with the most wins in the country, remain in the winners' bracket and face Reinhardt (Ga.) this afternoon at 4:00 (3 p.m. CDT).
"Reinhardt is very solid defensively and they made some great plays against St. Gregory's when they played," McSpadden said.  "Pitching is like everything else down here – you're not going to get a lot of K's, you just hope to get the timely hit.  And they have a couple of returning All-Americans."
However, McSpadden put perspective with the appraisal.
"But still it's who executes and who's playing well and the time.  And I always like to use the reference – who's getting the lucky breaks."