The brackets in five of Oklahoma's eight classes have reached the point where only two teams remain.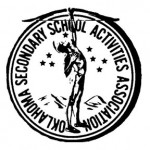 In Class 6A, the matchup is  – wait for it – Jenks vs. Union.  Didn't see that one coming did you?  The Trojans are 13-0 and the Redskins are 11-2, losing only to Jenks and DeSoto, Texas.  The game will take place at Boone Pickens Stadium on Thursday at 7 p.m.
The Class 5A title game has (13-0) Guthrie taking on (12-1) McAlester.  It's the first of two Friday games at BPS in Stillwater.  Kickoff is set for 7 p.m.
In Class 4A, (13-0) Anadarko meets (12-1) Poteau in an afternoon contest in Stillwater.  Kickoff at BPS will be at 1 p.m. on Friday.
Class B offers a rematch of last season's championship matchup: (13-0) Laverne vs. (12-1) Pond Creek-Hunter.  The game is set for Friday at 7:30 p.m. at Fast Lane Field on the campus of Southwestern Oklahoma State University.
And the Class C championship game will also be at SWOSU.  On Saturday at 7:30 p.m., (12-0) Cherokee will face (13-0) Tipton.