By Kevin Green
It all started in 2012 at a Goldie's Patio Grill restaurant in Tulsa.
Neil Mavis, a WiFi engineer, was talking with a friend over lunch when Tulsa became a topic of discussion. As the two chatted about the city's dwindling identity, Mavis began to think back to the 19 years he lived in Atlanta.
He recalled Atlanta having a similar issue in the 1980s until the city decided to bid for the Olympics and succeeded. That gave Mavis an idea, and after months of researching how his former city was able to host one of the largest sporting events in the world, an Olympic committee for Tulsa was born.
"When the Atlanta Olympics were over, they printed a massive three-volume book on how they pulled it off, so I found it on eBay and bought it," Mavis said. "I reversed engineered it, saw how they did it and I started putting stuff together of what I was aware of in terms of Oklahoma and its Olympic legacy. That's pretty much how it all came to be mapped out."
Although the exact cost estimate is unknown, Mavis anticipates the state would make a profit from hosting the games.
"If we look at successful US Olympic bids that were profitable and successful, there's Los Angeles, Salt Lake City, Lake Placid and Atlanta," Mavis said. "In the Olympic Games Reports, it shows that Atlanta made a $17-$19 million profit."
Host cities can outsource certain sports to neighboring cities within a 120-mile radius, and the theme, "Native America", played a role in deciding the location of certain events. Mavis looked at Oklahoma's Native American contributions to the Olympics, as well as Oklahoma's athletic contribution to the Olympics when selecting venues.
The biggest contributor to both of those categories was Jim Thorpe, who was born in a town near Stillwater.
Speaking of Stillwater, there were several college campuses within the given radius that were selected, and Oklahoma State University was one of them.
Basketball and wrestling would both be held in Gallagher-Iba Arena. Soccer, rugby and judo would also take place in OSU's facilities.
"In Stillwater, you have coach Henry Iba, a three-time Olympic basketball coach, so basketball would be there," Mavis said. "For wrestling, OSU has 17 gold medals to come out of Stillwater, and we have the U.S. Wrestling Hall of Fame there, so it's stupid for us not to put those sports there."
OSU wrestling coach John Smith owns two of those gold medals, winning them in the 1988 and 1992 Games.
Smith was unavailable for comment, but his brother, Lee Roy Smith, said OSU hosting the Olympic wrestling event would be something to behold.
Lee Roy Smith is the executive director of the National Wrestling Hall of Fame and is a former NCAA champion in the sport. He also has 20 years of coaching experience.
"It would be quite exciting," Lee Roy Smith said. "GIA would be a great venue for such an event. OSU has knowledgeable fans, and there very well could be a competitor who is from the state of Oklahoma or represents one of the colleges. There would be some real special interest associated with an event like the Olympic Games."
Lee Roy Smith said OSU hosting Olympic wrestling would be a dream come true for his family, and he and John would make it go down in history as one of the greatest wrestling events of all time.
"We would find ways to make it as hospitable and entertaining as possible," Lee Roy Smith said. "Things like fan fests are becoming more and more important to hosts of major events, and with the university's infrastructure in Stillwater, creating fan fest events and entertainment would be easy to fulfill."
David Jennings, a recent OSU graduate, is a lifelong fan of the Olympics and wrestling, and he said if the National Wrestling Hall of Fame held a fan fest, he would not miss it.
"I would definitely go, being a wrestling fan and an OSU fan," Jennings said. "Having the Olympics on campus would be huge. It's always been my dream to go to the Olympics, so being able to do that on my campus would be special."
Although the seat requirement for wrestling fits well within the Gallagher-Iba Arena capacity, basketball is a different story.
Mavis said the arena seats 13,611 people, which is too small when compared to the official IOC application, which requires a minimum of 15,000 seats for basketball.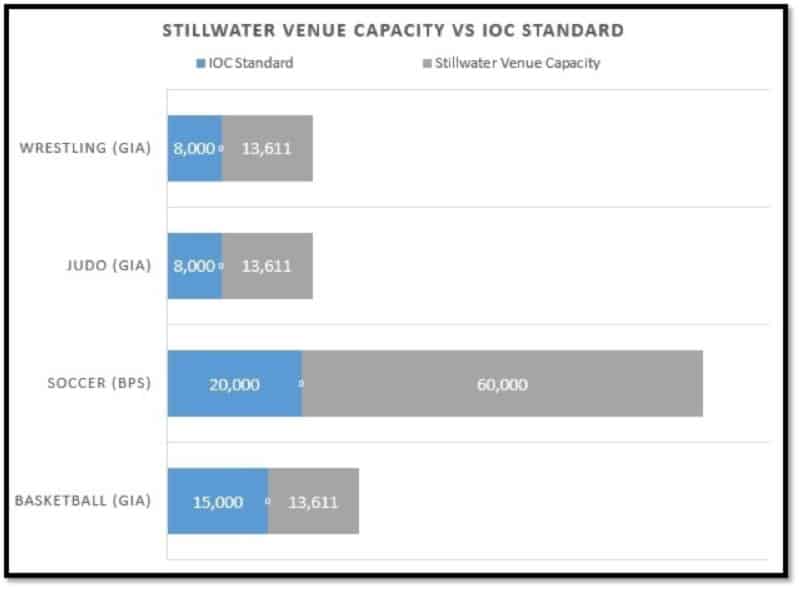 However, that might be an easily fixed problem.
"It's short by 1,389 seats," Mavis said. "We were invited to Lausanne, Switzerland, the headquarters of the IOC, and I spoke to an Olympic representative about that, and he said don't worry about it. We don't have to tear the facility down just to add a couple hundred or a thousand seats."
Of course, none of this would be possible without the dorm space on OSU's campus.
Mavis said one of the first things listed in the applications package is dorm bed requirements.
"If you don't have 15,000 dorm beds for the coaches and athletes, it's over," Mavis said. "It doesn't matter where your airport or hotels are."
The 15,000 dorm beds would be divided among the seven universities hosting events, so OSU would need only roughly 2,143 dorm beds available for about 1,500 athletes and coaches. OSU has 6,579 bed spaces, but Housing and Residential Life houses residents year-round, so not all beds would be available.
Housing and Residential Life Operations Manager John Moore said OSU could handle accommodating the Olympic athletes because it hosts anywhere from 3,000-to-4,000 people every year for the Special Olympics of Oklahoma.
It wouldn't be easy though. Housing and Residential Life already has a list full of other accommodation obligations to fulfill during the summer.
"We typically empty out the second week of May, and all the way up until the last week of July to the first week of August is usually the time we have to do conference services to allow outside groups to stay on campus," Moore said. "It'd have to fall within that time span, or it would interfere with our regular residents who are living with us during the school year."
Despite the uncertainties involved, Moore said Housing and Residential Life would be willing to help if the Olympics were to ever take over Stillwater.
"I think we'd love to give it a shot," Moore said. "It just depends on how many people would need to stay on campus and how many rooms we have at the time."
As for now, Oklahoma's Olympic future is unclear. Tulsa dropped out of the 2024 bidding and now awaits the results of the ongoing battle involving Los Angeles, Budapest and Paris for the right to host that year's Olympics.
If Los Angeles wins, Mavis said it could be another 20 years before the United States is considered again. If it loses, Tulsa would be able to reapply for a bid on September 13 of next year, which is when the IOC meets to choose the winning city.
Win or lose, Mavis said he backs Los Angeles' bid.
"We're basically just keeping an eye on it, and if Los Angeles wins, it will be great for America," Mavis said. "If not, we'll keep our options open as to what the USOC wants to do."
To learn more, visit Tulsa2024.com.