From SWOSU Sports Info.
Doug Self, Sports Information Director
INDIANAPOLIS, Ind. – The agonizing wait is over. Eight days after being eliminated from the Great American Conference Tournament, the SWOSU Baseball team received new postseason life as the Bulldogs were selected as the No. 7 seed in the NCAA Division II Central Region Tournament.
SWOSU will face No. 2-seed Central Missouri in the opening round of the double-elimination regional tournament on Thursday in St. Cloud, Minnesota. First pitch for that game is 4:00 pm CST and that game, along with all of SWOSU's contests at the NCAA Central Regional can be heard on live on the Wright Wradio family of radio networks in Weatherford. Thursday's game will be broadcast on 1590 AM and 95.5 HD2 along with online at kweyhd2.com.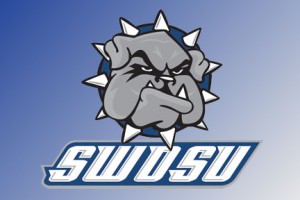 "It was a surreal feeling," GAC Coach of the Year Zack Saunders said about seeing the Bulldogs name pop up on the screen during the NCAA selection show. "It's something that we've been thinking about around here for a long time, getting to the postseason and continuing to play on is a dream for this program. We were fairly confident going in, but at the same times this region is so deep and there are a lot of good teams fighting for those few spots."
SWOSU was fourth in the regional rankings after winning their first GAC regular season championship two weeks ago, but an early elimination from the GAC Tournament dropped the Bulldogs to eighth in the rankings on Wednesday. That meant that SWOSU was idle on the final weekend of conference tournament play, allowing the other teams from around the region to state their case while the Bulldogs had to hope their regular season resume stacked up well enough to earn the NCAA bid.
And it did.
The Bulldogs will enter their first-ever NCAA Tournament appearance with a record of 33-15, the most wins by the program in the NCAA era, which dates back to 1998. SWOSU won their first conference crown since 1992 by finishing 22-8 in GAC play this season, one game ahead of Arkansas-Monticello, who won the GAC Tournament and earned the conference's automatic bid to the NCAA Tournament. UAM earned the No. 4-seed in the regional and will face Missouri Western in the opening round.
St. Cloud State earned the top spot and will host the regional for a second straight year. The Huskies will play NSIC rival Minnesota State in the first round on Thursday morning with their winners and losers being paired against those from the UAM-Missouri Western game. The final two teams in the regional are Minnesota-Duluth and Emporia State, who will face off in the final game of day on Thursday.
"You see your name on the board and everybody jumps up and cheers," Saunders said. "Then you see who you're playing. Central Missouri is a storied program and we know we have our hands full, but the Bulldogs have new life and we're going to keep our focus like it has been all year. We don't worry about who we're playing, we just worry about playing our game and that's what we plan to do in Minnesota."