Southwestern's women's basketball team was picked by the coaches to finish third again in the Great American Conference.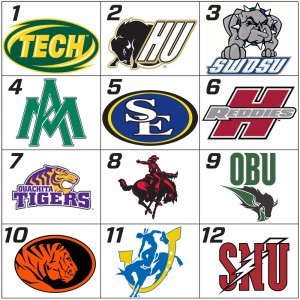 The Lady Dawgs were picked in that spot in 2014, but struggled at times through the year, and finished the season in sixth in the league. Last season saw SWOSU introduce many new names to the GAC and this year's edition will have more returnees that have seen their share of conference action.
Two of its top four scorers in Korina Chapman and Jade Jones are back for coach Kelsi Musick, in her seventh season in Weatherford.
Arkansas Tech and Harding shared the regular season title last year and are at the top of the preseason rankings. ATU is in the top spot followed by Harding.
Southeastern is fifth in the preseason rankings, Northwestern comes in at No. 8 and league-newcomer Oklahoma Baptist was ranked ninth.
GAC Women's Basketball Preseason Poll
1. Arkansas Tech 120 points (10 first-place votes)
2. Harding 103 (2 first-place votes)
3. Southwestern 92
4. Arkansas-Monticello 91
5. Southeastern 89
6. Henderson State 51
7. Ouachita 50
8. Northwestern 49
9. Oklahoma Baptist 47
10. East Central 42
11. Southern Arkansas 37
12. Southern Nazarene 21