The Pioneer Cellular Event Center has been called the Jewel of Western Oklahoma since it opening a couple of years ago on the campus of Southwestern Oklahoma State University.
And the new facility has itself already seen some gems find their home within its walls.
One of those is senior men's basketball player Martell Collins, who could be called a diamond in the rough.
Collins is getting ready today to start his final Great American Conference postseason tournament. And as is winding down his career on the court for SWOSU and his impact on the team and program has been seen and felt.
Southwestern coach Bob Battisti said he knew how to sum up what he sees in Collins.
"If you told me to describe him in one word, I would say that word is courage," Battisti said.
"In that I mean, he is one of those guys that may fall down five times and he gets up six. He has the unique ability to survive and overcome. He is a man of courage and a guy that I really have a lot of admiration for."
The 6-foot-5 forward from Milwaukee was named to the All-GAC First Team for his performance in 2015-2016. He led the Bulldogs in scoring (18.8 ppg) and was second in rebounding (5.9 rpg) in 26 games played.
But accolades have not always come Collins' way. In fact, for much of his life, he might not have been regarded at all.
Collins was born in Chicago and almost immediately put into foster care and moved from home to home.
"I don't know either one of my parents, what they look like or anything about them," Collins said. "I was placed in a home and got adopted around sixth grade.
"I never really had a connection with my family members and I was always looking for others on the outside. I got a lot of friends and family that aren't really family."
All that moving around took its toll.
"I used to get in trouble a lot because I was just listening to a lot of people that were supposed to be a 'guardian', but the outcome was they really didn't care," Collins said.
"I got attached to some of my friends that were doing negative things in the streets. And when I got to high school, I never really had anybody that enforced that education was a big key, so I missed a lot of days in high school and I never was eligible to play a full season of basketball until my senior year."
But Collins had an avenue to play basketball beyond just high school with an AAU team and found some stability there.
"I had a mentor in my AAU coach named C.J. who took me in under his wings and developed some personal value skills in my life that I was needing and gave some guidance that I didn't have from anyone else."
"My junior and senior years of high school, I got kicked out of my home and was staying anywhere, from teammates houses to friends houses and going back and forth. I had to go to day school and night school my senior year just to graduate because of missing so many days of school. I just felt like it wasn't important at the time. I wasn't worried about school or education or basketball. Really, with the environment I was in, I was trying to survive from day to day."
"I was just playing basketball because it gave me a free peace of mind at that moment."
But when he did get on the court, his play started to catch the eyes of college recruiters. However, academic issues manifested as the first of problems to overcome on Collins' path.
"You have to have good grades to get into one of these top-notch programs and coming out I definitely didn't have those. So my only route was to go to junior college."
He tried State Fair Community College first.
"I played with some good players there. But after bouncing around everywhere, I had trust issues and didn't know if people really had my best interests.
"I got kicked out and had to go back home. It hurt."
The academic and trust problems put Collins in a bad place. Schools that he tried to reach out to from that point let him know that he was 'a liability.' And he started to withdraw.
But as he was sitting at home one day, he got a call from Highland Community College in Kansas. An offer was made over the phone and Collins took it with no questions asked.
"It was in the middle of January and they laid down some guidelines and I had to show I was capable of passing those tests to be able to come back in the next year to play."
He held to the guidelines and put up numbers on the court there, looking to play beyond, but wasn't out of the academic woods yet.
"It wasn't an easy road to get into Southwestern," Collins said. "I had failed my biology and my computer classes and it dropped me under eligibility and all the schools that were looking at me just left."
Cue Kris Johnson.
The assistant men's basketball coach at SWOSU had been recruiting the region and heard of Collins from Southwestern players Rod Camphor and Ayo Ojo. Former Bulldog Mike Bradley knew about Collins from his time at State Fair, as well.
"There was a connection there," Johnson said. "And I just kept up with him through the season. And we trust the guys (the former players) to see if he would be a good fit here."
"There's a high demand to play here; you're going to be held accountable. And they said he could handle it. We stuck with him."
Johnson said he knew there was going to be an uphill climb and it wasn't going to be easy. But he stuck with him through the summer.
"A bunch of our credit in Martell's recruitment goes to Kris Johnson. He identified him and stayed with him and stayed positive throughout the process," Battisti said.
Collins completed the hours he needed to finish at Highland and came away with his associate's degree. And his time in Weatherford has been a springboard from that.
"He's always been a kid that wanted to get better," Johnson said. "He just kind of needed someone to guide him in that way and needed somebody he could trust. And that was the big deal with him was finding someone he could trust.
"And once he finds that, he'll do whatever you ask him to do. He's a great kid who tries his best. We may tell him some things he doesn't want to hear, but he respects it because it's what he needs to hear."
As Collins has been striving to improve in life, the improvements on the basketball court have come along with it. Especially during his senior campaign.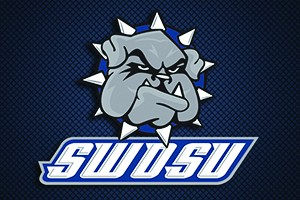 "He's always had the physical attributes, but he's so much better mentally," Battisti said. "His leadership is off the charts. He really plays for his teammates and the university.
"He has a real trust and love about him that I think has developed in his time in Weatherford. He's a guy that you can just count on because there's a trust that has been built and it's a true love between his teammates, his coaching staff and the school he plays for."
That trust was exemplified in a Southwestern win over Southern Arkansas late in the regular season.
Collins had 25 points and 7 rebounds in the 71-69 win over the Muleriders, including the game-winning three-pointer with 5.6 seconds left.
Battisti talked about getting the ball to his senior star.
"He's one of the guys that wants the pressure. He gets better as the game goes on. He thrives with pressure and he wants the ball.
"There isn't much diagramming or play-calling going on in those situations and I don't care if you're coaching in the NBA or high school, you just have to have players that are winners. And when it comes to winning time, he shows up."
And the coach said he appreciates the journey Collins has made.
"He's grown as much as any player I've coached and I just love this kid. I could hug him every day."
But he is a team-minded player and doesn't count that shot as his favorite memory in his time at SWOSU.
"The game-winner was nice, but last year when my teammate K.B.(Kenyan Borders) hit that game-winner against UCO, it was just crazy. And I can't even describe the emotion I had for him. And if I hadn't seen his game-winner, I don't know I would have enjoyed this as much.
"And beating the No. 1 seed (Ouachita) in the GAC tournament last year, when they swept us during the season, was definitely my top memory."
Southwestern is the No. 4 seed in the GAC tournament and will face No. 5 seed Southern Arkansas at 7:15 p.m. in Bartlesville.
Collins said he is really appreciative to Southwestern for the love and help he has received from teammates and staff members and everyone around him.
"It's a genuine love around here. It's the love and pride that has been instilled in me.
"We are Bulldogs. I'll always be a Bulldog."