By Doug Self
Kaila Lancaster came to Southwestern Oklahoma State University in the fall of 2012, joining the volleyball team as one of three incoming freshman hoping to make an impact on the team and her new school. Now, Lancaster is the program's all-time leader in digs and an active member of the SWOSU campus with eyes on her dream job upon the completion of her senior season.
The connection to SWOSU for Lancaster, who was raised in Hewitt, Texas, was her grandfather John Goodner. Goodner played football for the Bulldogs from 1964-66 before beginning a successful coaching career that spanned more than 35 years and included stops at Baylor, where he coached under Grant Teaff, Texas Tech, where he coached with Spike Dykes, and Kentucky under Guy Morriss. In 2007, Goodner was selected for induction into the SWOSU Athletics Hall of Fame, providing Kaila her first visit to the Weatherford campus.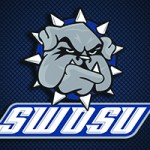 "I remember stepping on campus and thinking this was a place I could see myself going to school," Lancaster said. "I knew that if I came to a smaller school, I would still have the chance to play the sport that I love and SWOSU gave me that chance. I never would've known about Southwestern if my grandparents hadn't gone to school here."
The next time Kaila returned to Weatherford was the summer before her senior year of high school as she attended one of the SWOSU Volleyball camps hosted by Coach Bo Pagliasotti and then-assistant coach Josh Collins. Following the camp, a scholarship was extended and quickly accepted by Lancaster, who made her pledge to be a Bulldog on the opening day of practice for her senior season.
After a year-long wait, Lancaster headed to her new home in August 2012 and began her career with the Bulldogs as Collins took over as the head coach. She quickly found her niche and joined the lineup as the team's libero, a position she has not relinquished since. Kaila has led her team in digs in each of the previous three seasons, recording better than 300 each year, and last season she passed Janna Green (1,196, 2005-07) for the most digs in program history. She has since added to her career total, which most-recently surpassed the 1,600-dig mark.
"You can't put into words what Kaila has done for us," Collins said. "She's one of those kids that you love to coach because you never have to worry about her doing the right things. She has believed in SWOSU Volleyball since the day she stepped on campus. There's no doubt about it, Kaila Lancaster was born to be a Bulldog."
While the numbers are impressive – Lancaster also ranks in the top 10 in career assists and service aces at SWOSU – they are not what matters most to Kaila. When asked what she prides herself on most from her college career, her response was one word: Consistency.
"I wanted to be at a place for four years to play the sport that I loved for the duration of my career," Lancaster said. "I came here and I was able to make a difference while being able to play the sport that I love consistently. It's nice to know that I've been able to play my whole career."
Lancaster has left her mark on the SWOSU Volleyball program, but that is far from her only interest. An English major, after originally planning to be a teacher and a coach, Kaila writes a blog for the university website and she's an active member of the English Club on campus. Her extracurricular activities and interests helped her prepare for an opportunity that awaits at the conclusion of her playing days as Lancaster recently accepted an internship at the Walt Disney World Resort in Orlando, Florida.
"It's a paid internship with Disney that's for college students," Lancaster explained. "I get to go there and work as a character attendant and, while there, I can attend seminars or take classes with Disney executives and get my foot in the door with the company. It's a very good networking opportunity and a chance to work and learn from the best in customer service and entertainment."
Lancaster is the first four-year player at SWOSU to play all four years under Coach Collins. Her head coach was close by when Kaila got the news of acceptance from the Disney Program, a moment he won't soon be forgetting either.
"The day she got the call, I remember going home to (wife) Jamie and I couldn't wait to tell her," Collins said. "It's like one of our own kids had fulfilled their dreams. Seeing how nervous she was up until she got that call and the tears of joy, those are the things that are bigger than any win. It's really cool."
The opportunity that lies ahead is one that's exciting for Lancaster, but she's not looking too far ahead as she plays out her final season with the Bulldogs. SWOSU is currently 17-9 on the year, with the longest winning streak in school history along with first winning season in program history to their credit. Being the only senior on the roster has provided plenty of leadership opportunities for Kaila, who counts younger sister Klemson as one of her talented, young teammates.
Even though he will need to replace just one senior following the season, Collins knows that will be no easy feat after the great career Kaila has put together. One thing that will make things easy for him, however, is the impact she's had on her teammates.
"There's not a question from one person on the team that Kaila is going to do the right thing no matter what," Collins said. "Honesty, integrity, hard work, we'll miss all those things. The good news, though, is that she has instilled that in others on her team and she's created a tradition that will carry on after she leaves."
With a special connection to Southwestern Oklahoma State – and a younger sister with three years of eligibility remaining – Kaila plans to stay connected with her alma mater, despite post-grad plans taking her more than 1,300 miles away. Her internship is scheduled for six months, but can be extended up to a year, which would mean limited opportunities to catch the Bulldogs in action in 2016.
As she spends the next few months chasing her dream job, Kaila will undoubtedly have many chances to tell the people she meets about the place that she loves. In fact, knowing Kaila, she will probably also try to teach them the SWOSU Fight Song.
"I really love SWOSU, and getting to play for the volleyball team has been great. I'm a Bulldog forever!"