Mike Kirk has seen his share of sports through the years at the University of Central Oklahoma.
He has been a part of big wins and national championship runs and seen tough and heartbreaking losses as well.
Kirk has traveled to 34 states and witnessed football, softball, wrestling, volleyball and just about every sport the collegiate athletic world can offer.
And because he has been a part of it, many, many sports fans in Oklahoma and beyond have had a chance to know and learn about it as well.
Mike Kirk is the Assistant Athletic Director for Media Relations at UCO. He took the position, then as the Sports Information Director, in 1987.
Kirk is retiring on July 29, after serving 29 years in Edmond, providing information for and about the athletic department and so much more.
And if you've read stories about the Bronchos' teams during the past three decades, chances are you've seen the games play out through his eyes. Which means you've been treated to a well-told tale.
Kirk, a 1978 graduate of Perry High School, had long thought of working in the sports world, but maybe down a different path.
"I had always had a dream of being a sports writer," Kirk said. "I thought by the time I was 30, I would be writing for Sports Illustrated and all that stuff, so I went that direction and worked in McAlester for a year at the newspaper and worked as a sports writer in Lawton for four years.
"And then this job opened up at what was then Central State University. One of my brothers actually led me to it and I gave them my resume and came out and had an interview. And somehow Skip Wagnon, the athletic director at the time, must have been desperate because he hired me on."
Nearly 30 years later, Kirk has received 58 CoSIDA (College Sports Information Directors of America) publication awards, including 27 Best in the Nation citations.
To do something for that length of time, it would help to enjoy your work. And Kirk said he does, and there really isn't a day-to-day routine.
"You have a list of things to do, like working on the football media guide and some soccer stuff and then update the baseball record book or something. And then you get a call and someone needs some information on a football player from 1962 or there's a groundbreaking at the new softball field. Some things you kind of know about and some things you get surprised.
"You can't go into a day thinking you're going to just do this because that and this other stuff will happen send you in a different direction. But that's always been part of the allure to it."
The field in which he works has grown and evolved over the years. In today's world with so much information demanded, it is tough to imagine a college with an athletic department that doesn't have some form of sports information department.
But the manner in which that information has gotten to the public has had big changes during Kirk's time.
He earned a journalism degree at Oklahoma State in 1982 and used a manual typewriter while working as a student assistant in the sports information office there during his four years in Stillwater.
"And we got a telegrapher at that time. It took six minutes a page to transmit information to a newspaper and we thought that was the greatest thing since sliced bread because we didn't have to dictate stories when we called in stuff. Or heaven forbid, mail it.
"When I first got to UCO in 1987, I was still doing stats on a typewriter after games. I would add them up and put them on a spreadsheet and type it out on a typewriter and make copies.
"Things have grown so much in the last five or 10 years, more so than in the first 15 years or so that I've been doing it. But now with the explosion of the internet and Facebook and Instagram and Twitter and all that stuff, it's changed the position wholeheartedly."
Kirk works full time in the sports information department, and said it would be tough for a person to do the work with less opportunity than that.
"Most schools in Divison II, Division III, or NAIA are one-man, one-person shops," Kirk said. "Maybe they have a graduate assistant, maybe they don't.
"I tell people that our website is our newspaper, basically. Because a lot of programs don't get a lot of day-to-day coverage in our local paper or certainly the state paper. So your website is your newspaper for your athletic department.
"For a part-time guy, it's going to be hard to keep up. It's hard on a full-time guy. Especially if there is just one of you. It's a demanding position. And I don't think it's appreciated in a lot of areas because it's behind the scenes.
"You know, people see you and say, 'Oh, there's that guy keeping stats.' And they don't know that you were there before the game and then during the game and then after the game. Well, a lot of people don't anyway."
One of the benefits for someone to get to do the work Kirk has done so well for the last 29 years is the opportunity to get to know the coaches and athletes themselves. But even so, he works with so many people, that has its challenges.
"You don't get to know all of them and they don't know you on a personal basis as much as you'd like. Certain sports more than others as you travel more with them and you're around them more. That's just the way it happens.
"One of the best things I like about the job is going on the road, even though it took me away, but that's when you get to know the student-athletes better and on a more personal level and find out some more back stories about them that actually help you do your job better. That was always fun.
"It's great to be around young people like that and see the way they approach things and there attitude, to see how they can be great athletes and still study on the road and on the bus."
Kirk has seen his share not only of great people, but also he has witnessed big moments in the program's history. He said the championships always come to mind.
"Our first national championship when I was here was in wrestling in 1989. It was our last year in NAIA. And we moved to Division II the next year, and won our first national championship in Division II in '92, after coming close for a couple of years.
"It was really a great time just being there and seeing the hard work that David James and our program had put through to get to that stage. There were a lot of losses that can haunt you, too. But mostly it's the championships.
Kirk talked about being fortunate to be at UCO for eight wrestling national championships and also put the 2013 softball national championship high on the list of highlights.
"A great group of young ladies and Genny Stidham, one of my closest friends, was the head coach at the time and that was obviously a highlight.
And there was also what could have been.
"I point at the 1998 football team. We were undefeated and ranked No. 1. We won a playoff game here in exciting fashion and got beaten in overtime in the second round by a Texas A&M-Kingsville team that actually had to end up forfeiting to us because they had 22 ineligible players, which was disappointing because we thought that was a national championship-type team there and we fell a little short.
"There are so many. Some of the baseball teams that made it to the College World Series. One out away from winning the national championship in 1997 in baseball and that would have been a crowning achievement. I felt bad for Wendell Simmons and that group.
"I could go on and on when you start thinking about some of the teams we've had, like in soccer and last year's volleyball team. It's been a joy to watch our coaches and players perform, I can promise you that."
Kirk has been a part of the UCO athletic department's inner workings and his job entails many aspects as the caretaker of so much information.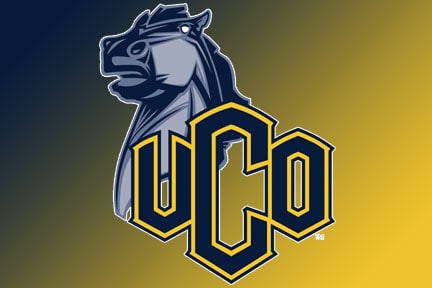 But in giving advice to those coming up who will be responsible in positions like this in the future, there is one thing that stands out to him.
"You have to be able to write.
"I've said already, your website is your newspaper. And maybe this is an older view and people want video and bullet points or whatever. But to me, and especially in Division II and Division III and NAIA, you're writing the stories on your website and putting the recaps together for your local newspaper.
"If you can't put that together in a cohesive way and report what happened that people can read and not just say, 'Now what happened?', I think you're missing the boat. I know there are a lot of other things now in the profession with the video and Twitter that are important, and things I might not have done as well as I should have. But first and foremost to me is that you have to be able to write.
"If you can't do that, I think you're behind the eight ball right off the bat."
Kirk's tenure at the university comes to a conclusion at the end of this month. But he said he's not done with the sports information field entirely.
However, he will take a break first.
"I'm going to take the whole month of August off and I may travel around the country.
"I really don't know. I'm going to do something. I would like to stay involved, you know, I like Gameday. I like keeping stats and writing stories.
So I wouldn't mind helping here at UCO. Obviously, I have a great love for this place, so I wouldn't mind doing that."
He also said he will stay involved in Division II athletics, and specifically wrestling, as he has been working with that tournament for a number of years.
"But I have told people that I may work some games, but when it's done, I'm going to go home instead of being there before and during and after."
And he has earned that privilege.
The Broncho athletic department will move into a new era of sports information with the 2016-2017 year. And it will do so on a solid foundation of knowing what has gone on to get it there.
The stories, the stats, the records, the photos and all the additional and even extraneous information – it's all been cared for to be handed to the next generation.
Kirk has told the tales of the teams for nearly 30 years. The next UCO storytellers and sports information caretakers have a great example to follow.