From ECU Sports Info.
Teri LaJeunesse, Sports Information Director
COPPERAS COVE, TEXAS – The East Central University football team fell 21-72 to Texas A&M Commerce in the 2014 C.H.A.M.P.S. Heart of Texas Bowl at Bulldawg Stadium.
The Tigers (6-5, 6-4 GAC) were led by sophomore Brad Davis, who tallied 184 all-purpose yards. Davis garnered 55 yards receiving, 38 on kick returns and 91 on punt returns. Junior Jamal Hall led the team with 78 rushing yards, while redshirt freshman Carson Hyles earned the start at QB and went 11-of-30 for 183 yards passing.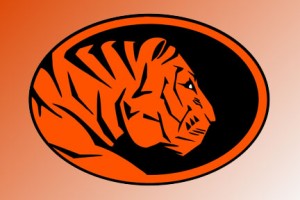 Junior Jameel Whitney led the defense with seven total tackles, improving on his own school record for tackles in a season to 111. Whitney also added 2.0 tackles-for-loss (six yards) and 1.0 sacks (three yards). Senior Daniel Holland also had a strong night, adding to his Great American Conference record for sacks in a single season. Holland recorded 2.5 sacks (16 yards) to improve his season total to 14.5.
The Lions (9-3) came out of the gates ready to play and scored on their first offensive play of the game, with 13:58 left to play in the first quarter to make it 0-7.
TAMCU kept the offensive pressure up in the first quarter, scoring twice more before ECU got on the scoreboard, for a 0-21 advantage.
The Tigers cut the deficit to 7-21 when sophomore David Moore caught a 10-yard pass from Hyles in the end zone with 2:06 left in the first quarter. The play capped of a 10-play, 90-yard drive for ECU.
The Lions struck again at the start of the second quarter to lead 7-28. On the following possession they were forced to punt and sophomoreBrad Davis returned the punt 41 yards to put the Tigers in great scoring position. The drive ended with Hyles diving over the pile at the goal line for a one-yard rushing TD and a 13-28 score.
However, TAMCU blocked the extra point and returned it for two points to push the lead to 13-30. The Lions added two more TD's in the second quarter for a 13-44 score at the half.
The scoring was slower at the start of the third quarter, but TAMCU picked up the offensive pressure about half way through and scored three touchdowns to increase the lead to 13-65.
The Tigers got their final points in the fourth quarter with 4:33 left to play. After a long drive down the field, junior Spencer Bond earned a TD with a quarterback sneak from a yard out to make it 21-65. However, the Lions responded two minutes later to push the lead back out to the final of 21-72.