If you saw the Southeastern/Tulsa score on the crawl at the bottom of your screen on ESPN or Fox Sports following the game on Dec. 10, you may have rewound your DVR to get a second look for a couple of reasons.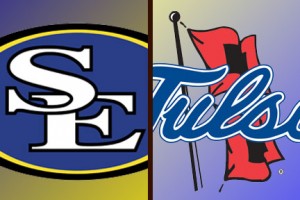 First, it's not every day you get to see a D-II logo or name on that national crawl and could have caught you by surprise. Second, you might want to see if the numbers were in the right place.
And they were.
The Savage Storm proved to be a stronger force of weather than the Golden Hurricane, at least on that night, winning 69-66 in the Reynolds Center. The Massey Ratings listed the win as the biggest upset of the year in 2014.
Southeastern led by three at halftime and extended that lead to 10, going up 41-31, in the first five minutes of the second half. Tulsa wouldn't go away easily. Shaquille Harrison, who had a game-high 24 points, scored the next nine points for his team as it battled and cut the deficit to TU deficit to six, 46-40.
And Southeastern took over from there. Darius Harris' short jumper started a 13-0 run that was capped by Taylor Smaller's three-pointer and SOSU was up 59-40 with 7:30 to go.
The Golden Hurricane mounted a furious comeback attempt and got to within two points with five seconds left. Danny Powell put in one free throw after a foul and Harrison didn't get the potential game-tying three pointer to fall as time ran out.
Powell had 19 points in the win for the Storm. Smaller put in 18 and Sami Bzai had 17.
SOSU coach Kelly Green gave his team credit after the win.
"Our kids were resilient," Green said. "We have gone through quite a bit of adversity this year and our guys just did an outstanding job."