The Cavs started 2013-2014 with eight straight wins and seemed to make a statement in that undefeated November.
But it wasn't until March that St. Gregory's really put together a season for the ages.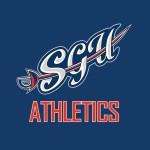 SGU (24-10) was ranked as high as No. 11 in the regular season, but struggled in January and then faced a challenging Sooner Athletic Conference schedule.  The Cavs still went 12-8 in conference and finished the home portion of the year's slate with a very impressive 13-1 mark.
St. Gregory's was upset by USAO in the SAC tournament, but had amassed a record worthy of an at-large bid to the NAIA national tournament.  And the unseeded Cavaliers made the most of it.
Each win would be an upset and those wins started with an 84-69 victory over 15th-seeded Wiley (Texas).  Marty Wilkerson put in 20 points, Jaron Vierra had 17 and Josiah Campbell was strong on the inside with 11 points and 11 rebounds.
It was the program's first-ever win in the NAIA national tournament.  But SGU wasn't done.
The Cavs then pulled off likely the biggest upset of the tournament with an 88-83 win over the No. 2 seed, Pikeville (Ky.).  Guards Wilkerson, Trey Jones and John Clark had a fantastic effort and Wilkerson scored all 23 of his team-high 23 points in the second half.  Wilkerson had scored eight in an 11-1 run when the team was down 75-69 with 4:08 remaining to retake the lead and hold it until the end.
Jones' big play off the bench continued in the quarterfinals against tenth-seeded Freed-Hardeman (Tenn.).  He came in again early on as Wilkerson was again saddled with foul trouble and was scoreless in the first 20 minutes.
Wilkerson scored 32 after intermission and Jones pushed his team home.  With the score tied at 82-82 and five seconds left, Jones drove the length of the court and then dished to the cutting Campbell and the senior put the ball of the glass and in for the win as time expired.  St. Gregory's won 84-82 to advance to the Fab Four.
The Cavaliers ultimately fell to eventual national champion Vanguard (Calif.), 108-88, in the national semifinal.  Wilkerson was named to the All-Tournament team for his efforts, scoring 95 points in the four-game run.
St. Gregory's also finished the year with its highest ever ranking at No. 6 in the postseason coaches' poll.
The Cavs' 24 overall wins and 12 wins in the Sooner Athletic Conference are both school records.
Top 10 of 2014 – Honorable Mention
Top 10 of 2014 – No. 10: Savage Storm tops Golden Hurricane
Top 10 of 2014 – No. 9: Bison run in the SAC Tournament
Top 10 of 2014 – No. 8: Lady Dawgs upset No. 2 Harding to win GAC title
Top 10 of 2014 – No. 7: OKWU tops OBU in NAIA World Serires; finishes third in nation
Top 10 of 2014 – No. 6: Holmes hangs half-a-hundred on top 10 opponent
Top 10 of 2014 – No. 5: Pokes rally for overtime Bedlam victory